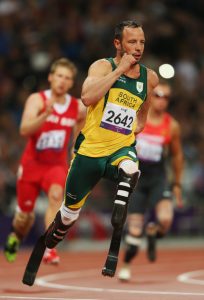 We'll never know what happened, exactly, on Valentine's Day of 2013 when the South African model Reeva Steenkamp was shot, through a closed bathroom door, by her lover, Oscar Pistorius. We'll never know, but it didn't seem very Valentine's-like to authorities, who were doubtful about his version: he thought an intruder took refuge behind the door, and he shot in fear.
He was one of the highest profile athletes in the world, a double amputee as a child who was fitted for ski-like extensions to his legs, and he ran track at a world-class level, literally. After much ado about whether his protheses gave him an unfair advantage, he was allowed on the world stage with the other competitors at the 2012 Olympics.
Nicknamed the "Blade Runner," he was considered a role model to the "disabled" everywhere. A remarkable story in competitive athletics, he seemed guaranteed a life, going forward, of fame and respect.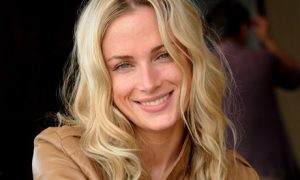 He even had a girlfriend who was an up and comer, a striking woman said to have a very bright future in modeling. No one would envy him his physical deformity at birth, but most people would envy him everything else.
He was at first convicted of our equivalent of manslaughter, "culpable homicide" in South Africa.  But before long a higher court decided to call it, simply, murder, although they added very little time to his sentence.   Then, this year only weeks ago, a still higher court found his six-year sentence way too short for the crime, and increased it to 15 years, minus of course time served.
In the U.S. and many other countries, we're familiar with a pattern of harshness at local trial, and then appeals by the defense. Sentences may be lightened, new trials may be granted, that's what we expect the world "appeal" to mean in the justice system. But apparently, in South Africa, prosecutors can appeal as well to higher bodies, as in– We believe that "no reasonable court" would have imposed so light a sentence on such a clearly egregious crime.
And twice, on such appeals, Pistorius's fortunes have gone downhill.
Just what exactly drove the relationship between Pistorius and Steenkamp, that perfect specimen of a woman and unusual specimen of a man?
What precisely did happen on that day designed for hearts and flowers? Is it conceivable he felt inadequate–with his disability somehow in the mix–to protect his turf when he thought he heard a prowler? Is that why he had a firearm close at hand?
There lot's to ask about here, challenging the fields of both crime and psychology. Oscar's simply remarkable career as a competitive athlete would appear to be over. But we should first remember that Reeva's modeling career, and whole life, were over by mid-February in 2013. Lots to think about, all of it sad.