It may raise unanswered questions forever: the violent death, at age 44, of Washington socialite Mary Pinchot Meyer, on October 12, 1964. This was less than eleven months after the death of her lover, John Fitzgerald Kennedy, also by gunshot wounds to the head.
The Pinchot family were aristocrats and Mary grew up with class, education, and beauty. In her youth she married a rising star in government work, Cord Meyer, and his career in the CIA led him into the upper ranks of officials with influence over, and connections within, the underworld of spies and national security secrets. They divorced, but Mary never lost her links to a very connected, and fascinating, Washington world. As an attractive, intelligent, and dynamic divorcée Mary could have chosen relationships with any number of men, but one she valued the last few years of her life was with the most seductive womanizer on the landscape, the young President. We'll never be privy to the nature of their intimate moments, of course, but JFK enjoyed their time together due to Mary's superior intelligence and her highly adventurous spirit. Then November 22, 1963 and everything in the nation's capitol changed.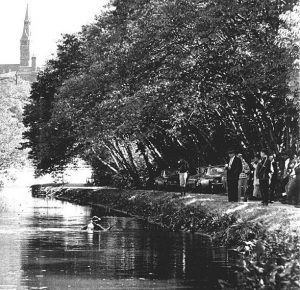 On October 12 of the following year Mary was walking as she frequently did along a path near a canal in her Georgetown neighborhood. Distant observers heard a scream, gunshots, and by the time anyone reached the scene, Mary lay dead of a shot to the head, another through the heart. A seeming drifter, who roughly fit the description of a shooter at the scene, was encountered by police while wandering around the canal, detained, and eventually tried for Mary's murder. Although circumstantial evidence pointing to his guilt was piled high, he was ultimately acquitted.
The death of Mary Meyer stands, officially, as an unsolved murder, only one among thousands. What elevates it to the status of a significant mystery, however, are all the circumstances, the stage, if you will, on which Mary was shot. A dozen intriguing questions remain unanswered. Only hours after her death Ben Bradlee, friend of JFK and later of Watergate fame as the editor of the Washington Post, entered her home to secure her personal diary, but found high-level CIA official James Angleton already there, searching. Bradlee had a more intimate connection—through his marriage to Tony Pinchot, Mary was his sister-in-law. A staggering array of stories and theories conflict on what her diary and papers may have contained, and what happened to them. None of those documents survived, to help write history.
It was often reported that Meyer took an intense interest in the assassination of the preceding November, and committed her suspicions to writing. One inevitable speculation is that someone silenced her, deliberately. A number of rumors and theories cover ever more interesting ground. The Harvard psychologist-turned-LSD proponent, Dr. Timothy Leary, related numerous contacts with Mary in which she hinted that Washington's highest powers were now experimenting with new consciousness, and new drugs. Would the contents of her diary have spawned the scandal of the century? Little about Mary's demise is known for sure, but one thing is almost certain: that if historians ever got a look at that diary, eyebrows would have been raised.
Join us as we open the file: The Curious Death of Mary Pinchot Meyer.