Todd Kohlhepp, from a small town in South Carolina, made the news when his murderous temper was finally discovered. Back in 2003, at a motorcycle store in Chesnee (40 miles from his Woodruff home) something the manager did or said irritated him. He then did what any of us would do, he shot to death the manager and everyone who worked for him. Years later, a couple who arrived on his property to work for him were slaughtered. And at least one guy in another incident—his admitted murder account is seven.
A potential eighth victim, a woman chained inside a barrel, was discovered alive and so his serial killer identify unraveled. And as authorities began to look into his background, a trail of breadcrumbs was revealed. In this case, discovering a kidnapped victim clinging to life lead to the discovery of clues, not the other way around.
A South Carolina woman who spent two months chained inside a large metal container says her captor raped her daily and bragged that he was good at killing, claiming that his victims tallied nearly 100.
Kala Brown says she did what she had to do to survive.
"He told me as long as I served my purpose, I was safe," Brown told Phillip McGraw, the host of the television show "Dr. Phil."
It was the first time she has talked publicly since her Nov. 3 rescue, which authorities say helped them solve seven killings in the area dating back 13 years. Police said Todd Kohlhepp, a real estate agent with his own firm until his arrest, killed Brown's boyfriend, a couple who had been missing nearly a year, and four people at a motorcycle shop in 2003.
Brown said she and her boyfriend had gone to Kohlhepp's rural property Aug. 31 to help him clear some underbrush. She'd cleaned houses for him previously to prepare them for sale. After the couple followed him to a two-story garage on the 95-acre property in Spartanburg County, Kohlhepp handed them hedge clippers and bottles of water. He said he needed to get something inside and came out shooting, Brown said.
One more sick, serial killer, but the written trail later discovered does add an interesting dimension.
Investigators discovered that Kohlhepp had left clues online – posting a five-star review on a folding shovel for sale on Amazon and writing: "Keep in the car for when you have to hide the bodies."
Another post on Amazon was more explicitly bloodthirsty. In a review for a knife, written in September 2014, he said: "Haven't stabbed anyone yet… yet…but I am keeping the dream alive and when I do, it will be with a quality tool like this."
And according to complaints from some frightened Facebook users, his social media posts advertised his taste for violence and revenge.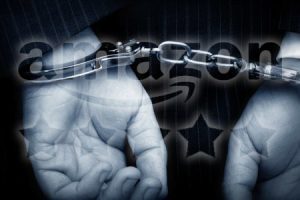 All of which begs a few different, intriguing questions. Do staff at Amazon at least scan every post that goes up, looking to edit out obscenities or dramatically inappropriate content? Might they notice such powerful hints at violence, and if so, do they kick the post up to a second level of review? If the NSA essentially hears and reads everything, then can they flag a huge bread crumb of criminality like this? What's the point of all of this surveillance, of having Big Brother listen in on almost anything and everything, and not have the snoopes catch a serial killer who's wearing his violence on his T-shirt?
And questions of criminal psychology are teased as well. The old discussion on whether killers "really want to be caught" has been around a long time, but here's a case of a guy telling the whole world he's a criminal psychopath. Yet it's not noticed for years. What's up with that?
It's debatable of course that most killers want to be caught, but when they practically carry the message on their foreheads, it seems we should look in to that. A review of how we missed it seems justified. This is one of those stories that ends… To Be Continued.