Michelle O'Connell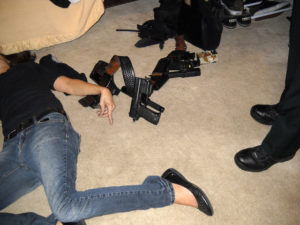 On Sept. 2, 2010 Michelle O'Connell went home with her boyfriend for what was supposed to have been the last time.  She had decided to break up with him.  She dreaded that confrontation, but had other, upbeat news in her life: for example a promotion in her job that would offer health coverage for her and Lexie, her four-year-old daughter.  She texted cryptic messages to family earlier in the evening that expressed ominous thoughts.  "Promise me one thing…Lexie will always be happy…and have a good life."  Was she suggesting she knew she might snap and end her own life, or that her boyfriend, known to have a hot temper, might snap and end it for her?
At 11:20 PM a call to 911 came in from Jeremy Banks: "my girlfriend just shot herself."  Thus began one of the more celebrated, and debated, death investigations in Florida history.  Banks, a young Sheriff's deputy, claimed a distraught Michelle grabbed his service revolver while he was elsewhere in the house, aimed into and down her own throat, and pulled the trigger.  Michelle's family and friends, and many others, concluded that Banks forced the gun into her mouth and executed her.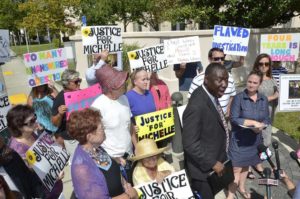 Extensive coverage by local newspapers was only the beginning of attention to the case.  From CNN to NBC Dateline to PBS Frontline to the Dr. Phil Show, and beyond, the case became a national, even international phenomenon.  Several levels of investigators and prosecutors have now combed over the case, generally concluding that no conclusive evidence of a crime, on which to base a prosecution, exists.  It's unlikely there will ever be a criminal trial.  The case recedes into history.
What really happened that night?  Some evidence is contradictory, but does that make the suicide vs. murder dilemma a fifty-fifty proposition?  Does one of the scenarios emerge as distinctly more plausible than the other?
Join our exploration of the case that Frontline simply called "A Death in St. Augustine."
We Need Your Help with this case.
NEW EVIDENCE?
ST. AUGUSTINE, Fla. – A third autopsy of a 24-year-old woman killed with her boyfriend's gun nearly six years ago brings new hope to Michelle O'Connell's family, which has fought for years to prove her death was not a suicide.
Patty O'Connell believes her daughter's boyfriend, St. Johns County Deputy Jeremy Banks, killed Michelle.
The O'Connell family had the woman's body exhumed in January and re-examined by Dr. Bill Anderson, a well-known forensic pathologist based in Orlando. Anderson has worked in medical examiner's offices across the country.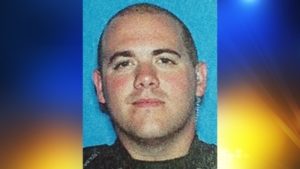 Anderson told Crime Watch Daily his autopsy found that Michelle O'Connell's death was a homicide. He said he found blunt-force trauma fractured her mandible — her jawbone — incapacitating her before she was shot.
"So all those people making assumptions this was a suicide were unaware of the existence of the fractured mandible. That's a different injury pattern and creates a whole different scenario in the case," Anderson said.
"They kept saying, 'You don't have anything. You don't have anything. You have nothing.' You know, I believe with Dr. Anderson, we have a lot; we have proof," Patty O'Connell said. "We have new evidence. Totally new; never been brought to light."
Anderson and two forensic dentists were asked to look at the O'Connell case by private investigator Clu Wright.
"They were kind of hesitant at first to do this, but they agreed to do this, and they agreed to do this for free," Wright said.
Wright has also donated his services to help the O'Connell family find even more of what he calls ignored evidence, including crime-scene photos showing a bloody shirt and a gun holster — both inside the house — along with a black medical glove found on her boyfriend's car. Wright said all those items could also help reopen the case.
"I think if them pieces of evidence were gathered that night and tested, we would not have been sitting here today, and that case would have been solved that night," Wright said.
The findings give renewed hope for O'Connell's mother, who says her determination to find out what really happened is fueled by her granddaughter, who was just 4-years-old when Michelle died
Joy Purdy, www.news4jax.com, May 22, 2016
With the posting above, we jump into the middle of the Michelle O'Connell's case, death by a Sheriff Deputy's service weapon, and the simple question. Who pulled the trigger?
This is the tragedy of a young woman's all-too-short life, but mystery analysts must be forgiven is they also find it a classic case. An endlessly absorbing conundrum, until you remember it's very real pain, for a real family.
It's a death investigation with a very binary solution, that is: either this young woman hastily committed suicide, or the Sheriff's Deputy roared into anger and shot her to death. It's one or the other. It's a mystery simplified, but still very perplexing.
A MOTHER'S DEATH, A BOTCHED INQUIRY…
ST. AUGUSTINE, Fla. — Rusty Rodgers did not fit everyone's image of a law enforcement officer, particularly in deeply conservative northeast Florida. One police chief, well ensconced in the local power structure, expressed irritation over what he called the officer's "Jimmy Buffett look" — long hair, beard, loafers and no socks.
No one, however, questioned Agent Rodgers's tenacity as an investigator.Working for the Jacksonville sheriff, he doggedly pursued a rapist who preyed on poor women and prostitutes. "They deserve justice just as much as someone who lives on the Southside," he told the local paper, referring to the wealthier part of town. The rapist got 45 years.
Later, Agent Rodgers joined the state's elite investigative unit, the Florida Department of Law Enforcement, where he quickly earned agent-of-the-year honors — and a meeting with the governor — for helping dismantle a terrorist financing network that stretched from Florida to the Middle East. For the governor, he made a concession: He cut his hair.
Then, in January 2011, came the call that would upend his life.
Go to St. Augustine, he was told, to reinvestigate the death of 24-year-old Michelle O'Connell, shot while packing to leave her deputy sheriff boyfriend, Jeremy Banks. The fatal bullet came from his service weapon.
Agent Rodgers had been summoned here twice before to answer questions about cases involving the St. Johns County sheriff, David B. Shoar — examining whether his officers had drawn their guns and used pepper spray to break up a peaceful graduation party in an African-American neighborhood (they had), and whether a political supporter of the sheriff had engaged in improper conduct with minors (he hadn't).
This time, the stakes were higher. There was a dead body — a single mother of a 4-year-old girl — and the sheriff's office had chosen to investigate its own deputy, poorly as it turned out. Because detectives quickly concluded that Ms. O'Connell had taken her own life, they had done little investigating.
NY Times, June 17, 2017
This excerpt begins to introduce important chapters in the story…what we know, with absolute certainty, went wrong about this death investigation.
First, the St. John's Country Sheriff's County did a wretched job of conducting the investigation.
Second, when an investigator from the state's FDLE (Florida Department of Law Enforcement) was finally brought in for an objective look, he was careless enough in his ways as to make matters worse, and even muddier.
The Sheriff's Department dereliction: They treated the death as a suicide from the first, creating a self-fulfilling prophecy. If it's a "suicide," why hone in on every surrounding circumstance, and each tidbit of physical evidence? And if no professional effort is made to look at all the evidence aggressively, it begins to look more and more like what was called in to 911 by Deputy Banks himself-a suicide.
Rather like the old saying "you only get one chance to make a first impression," you only get one chance to do a proper death investigation while the evidence still lies in place, while witnesses are fresh, while persons of interest can be questioned without the leisure to polish up their stories. If you blow those early hours with preconceptions (…our deputy says he heard shots and came running into the room and found she had killed herself, yup, I suppose she killed herself) then you may never be able to put the pieces together. Too much has been lost from the start.
Deputy Banks should have been separated from the scene, kept down at headquarters and fed hard, challenging questions from the scene as they emerged.
Example: clothing, an apparently bloody shirt captured in a photo, all kinds of evidence from inside and out was not fully captured and catalogued, as per a textbook death investigation. Banks should have been asked about these items.
Example: Banks should have been questioned about his handling of his gun in recent days, and several others items. Later testing which showed Michelle's DNA on Bank's weapon, but no trace of Bank's DNA, doesn't pass the common-sense test for many analysts.
Example: it's been said that Banks smelled freshly washed or showered, and that outdoors some water was found on the lawn and on cars on a dry night. He should have been pushed–hard–on those points. Perhaps he would have had plausible explanations for any questions thrown his way. But if he did have a quick love affair with water, that could be hard to explain. It could lead to the suspicion that he did a rapid clean-up of blood and GSR (gun shot residue) knowing he would soon have fellow deputies crawling all over the scene where his "girlfriend had shot herself."
These are only examples of the SJSO (St. John's County Sheriff's Office) failure to follow best practices following Michelle's death. At least in the early going it was simply an unthinking faith in their own deputy, and ignorance of good procedure.  No one claims that SJSO personnel arrived at the scene with the intent to play hocus-pocus with the results, or that the fix was in was from the start.
FDLE dereliction: The State's law enforcement agency is respected, and we assume, staffed with top-notch professionals. As you'll note from the NY Times excerpt above, agent Rogers was even decorated from the time of other investigations, considered one of the best of the best.
But whatever exactly happened when he descended upon St. Augustine, he handled himself poorly and left his work open to enormous criticism. Perhaps he was over the top because he judged that homicide by the young deputy was rather obvious, and that Banks was thus far getting away with murder.  But for an FDLE investigator to investigate based on preconceptions is merely the sad "photographic negative," or awkward mirrored image, of the sins committed by the Sheriff's office. Rusty Rodgers was in constant touch with Michelle's brother Scott, also a SJSO deputy, much more often it appears than warranted by his investigation. Perhaps he was so overbearing it factored into Scott O'Connell flipping–Scott changed his mind from a presumption of murder to a belief that his sister had committed suicide. (That stands as an amazing story-within-a-story, a family divided in their strong feelings about the case. They even went head-to-head about it on Dr. Phil's show a few years ago.)
In any event Rodgers, on some occasions, went beyond tightly professional behavior, acting as a careless cowboy at times, and thus created the perception that his work was not above reproach either.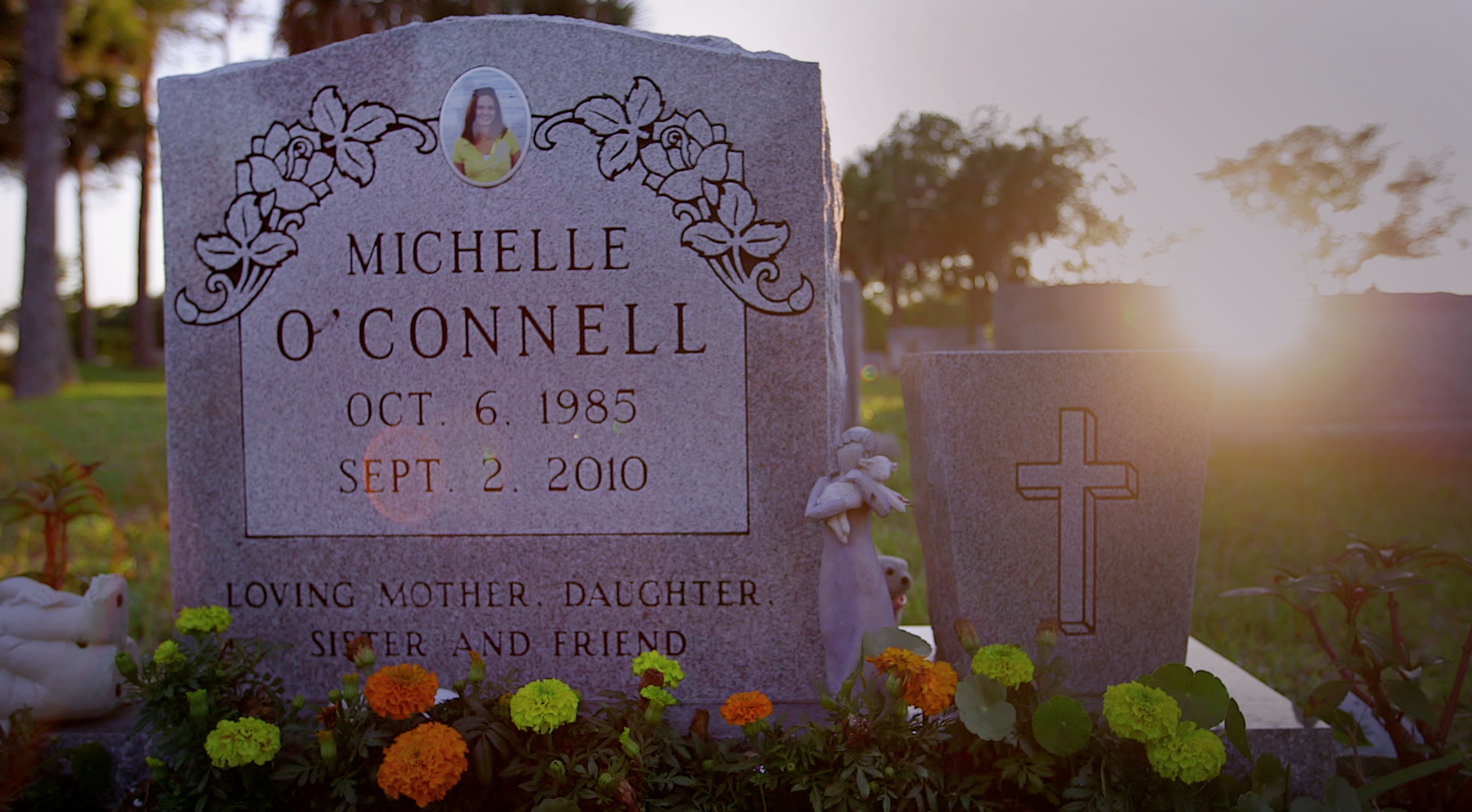 THE LOCAL VIEW….OF A VERY LOCAL SHERIFF'S DEPARTMENT
Attorneys for St. Johns County sheriff's deputy Jeremy Banks filed a motion in a federal court in Jacksonville Thursday claiming Florida Department of Law Enforcement agent Rusty Rodgers "destroyed" his own credibility and asking that his defenses and pleadings be thrown out in an ongoing civil rights and malicious prosecution suit brought against the embattled agent.
An FDLE report released last March said Rodgers' investigation into the 2010 death of Michelle O'Connell was "substandard" and that Rodgers, among other things, left details out when documenting an interview, added a word to a quote in multiple affidavits and failed to document a text message in his investigative report.
According to a news release, attorney Mac McLeod, representing Banks, seeks (by striking Rodgers' defenses) to proceed with determining any damages "awardable" to Banks "who has endured years of false allegations he was responsible for his girlfriend's death, which was ruled a suicide by 3 separate medical examiners and 2 State Attorneys."
Banks sued Rodgers in 2014, claiming Rodgers worked under a theory Banks was to blame in O'Connell's death.
O'Connell died of a gunshot wound through her mouth on Sept. 2, 2010, in Banks' home. Banks was, and still is, a sheriff's deputy. The gun that fired the fatal shot was his service weapon.
The death, initially investigated by the St. Johns County Sheriff's Office, was eventually ruled a suicide by the local District 23 Medical Examiner's Office.
Last month, the state's Medical Examiners Commission recommended disciplinary action for Chief Medical Examiner Dr. Predrag Bulic and associate medical examiner Dr. Frederick Hobin, both involved in the 2010 investigation. The vote came after a panel found probable cause both men violated Florida statutes and "practice guidelines" in their handling — and the office's handling — of documents associated with the case.
Some members of O'Connell's family have said she wouldn't have killed herself and some have questioned the integrity of the original investigation and believe Banks is responsible, though he has denied any wrongdoing.
Thursday's motion is the latest development in ongoing proceedings that have played out in the courts and the media since the 2010 death.
The motion, which characterizes Rodgers' conduct as a "cancer" to the justice system, claims Rodgers "repeatedly engaged in outright misrepresentations and perjury" while testifying under oath, providing several examples.
In the motion, McLeod claims Rodgers took "extreme and unlawful measures" to make sure Banks was charged with O'Connell's murder, despite "overwhelming evidence" and the medical examiner reports indicating otherwise. The motion also says Rodgers initially admitted in his deposition "he did not have (or even consider) probable cause" to believe Banks was "criminally culpable."
"Rodgers aggressively advocated his unsupported theory Banks was guilty of murder to others, including Michelle's family members, Banks' employer, witnesses, law enforcement officials, prosecutors and their investigators, medical examiners and a County Judge," the motion continues. "Among the many instances of his intentional misconduct, Rodgers manipulated evidence to suit his theory, communicated false factual representations indicating Banks' culpability to others and knowingly omitted significant exculpatory evidence, in an effort to have the official suicide findings changed to homicide and charges brought against Banks for murder."
The motion says Rodgers' efforts continued after the conclusion of his investigation despite independent findings by two state attorneys' offices that there was insufficient probable cause to bring charges against Banks for any crime.
Also under the microscope are Rodgers' sworn statements throughout the litigation denying conversations and circumstances reported by others or making counter accusations. In his deposition, Rodgers repeatedly denied telling anyone Banks murdered Michelle O'Connell.
Rodgers at one point testified he had conveyed to others that O'Connell "didn't kill herself" (rather than saying Banks had murdered her). At another point, he said there was a "good possibility," based on the evidence, that Banks and O'Connell "might have been fighting over the gun and that the gun accidentally went off." Asked to clarify his statement on the gun "accidentally going off intraorally," Rodgers said it was "just a theory" and that he "didn't say accidentally."
Among the witnesses cited in the motion as demonstrating Rodgers' "untruthful testimony," are County Judge Charles Tinlin, St. Augustine Beach Police Chief Rob Hardwick (former state attorney investigator) and former St. Johns County deputy Scott O'Connell (Michelle's brother, who filed a civil suit of his own against Rodgers, also in 2014).
When asked what Rodgers told him when applying for a warrant, Tinlin testified Rodgers had told him Banks "put her on her knees and shot her in the mouth with a handgun."
Hardwick testified Rodgers' claim he had never opined or suggested to anyone Michelle O'Connell was murdered was a "blatant lie."
"He came into our office convinced that it was a murder we were working, period," Hardwick said in his deposition. "It never wavered off murder from the day I met him."
Scott O'Connell had testified: "When he told me that my sister was executed by Jeremy Banks on her knees and where she was screaming for her life, those types of things stand out."
"Defendant's only explanation is that everyone is lying except him," the motion said.
Other similar instances are outlined in the 26-page motion, which also accuses Rodgers of "coaching" witnesses and trying to influence witnesses prior to on-the-record interviews in an attempt to get charges brought against Banks — and later lying about the conduct while under oath.
As written in the motion: "Defendant Rodgers' false, misleading and inconsistent testimony throughout the discovery process is so pervasive and extreme, and involves so many material issues, it has destroyed Defendant's credibility on all issues, significantly undermined the integrity of this action, and caused substantial amounts of time and expense in rebuttal work by Plaintiff's counsel. Given the prevalence of his lies and their effect on pivotal issues and allegations in this case, Defendant's misconduct unfairly hampers the presentation of Plaintiff's claims and interferes with the Court's ability to impartially determine whether genuine issues of fact exist."
A judge will have to rule on the motion.
Rodgers was suspended with pay throughout the three-year investigation by FDLE, which came at the request of St. Johns County Sheriff David Shoar. It was reported at the time of Rodgers' reinstatement, also last March, that he had received counseling and would receive remedial training regarding procedures for documenting investigative reports.
Staugustine.com, March 24, 2017
Not only the SJSO but the suspected murderer, Jeremy Banks, have gone on the offensive against Rusty Rodgers and the FDLE. Bank's lawsuit does create a scenario that gives his attorney a bit more ammunition overall: Look, says his lawyer, how many guilty people file a lawsuit that opens them up to cross examination, under oath?
That fact by itself is hardly exculpatory, but it is unusual, and it is somewhat impressive.
To read all about the anti-Rusty Rodgers movement and lawsuits that go with it, you might think that the whole problem, the entire issue, was some sort of rogue agent's vendetta against Banks. But no, the death setting itself and some pieces of evidence have always cast legitimate suspicion on Banks. It has not simply been some swashbuckling agent running amok under the banner of the State.
(By the way, objective courts and observers have generally found all the commotion about Rodger's behavior exaggerated, that's not to say entirely unfounded, but certainly much exaggerated.)
Through all the allegations back and forth of unprofessional police work, what's the reality? At the end of the day, Michelle O'Connell died and left a little girl behind.
One of two scenarios unfolded in that home in St. Augustine that night. Which one?
In concise form, the two cases:
Suicide: Michelle O'Connell had some rocky times, emotionally, as a teen-ager, with a diagnosis for depression at one point. On the night of her death, from a concert venue, she sent ominous texts to a sister, including one asking out of the blue for assurance that her daughter would always be cared for. "You're scaring me," texted back a confused sibling. Clearly, Michelle was entertaining some dark possibilities. Advocates of the suicide theory feel it's obvious–she sensed at some level that she might lose control later that night, and take her own life.
That, and the GSR on Michelle's hand, and the notion that no contrary evidence exists, spell suicide for that camp.
The SJSO (local Sheriff's office) has painstakingly composed a document of over 150 pages, including photos, summaries of interviews, reproductions of those text messages, and much discussion, all aimed at trying to make an overwhelming case for suicide. The document is thorough, and well-written.
Murder: Michelle was packing up her stuff to move out on Banks when shot. Advocates of the murder theory point out that, statistically, breaking up with a hot-tempered boyfriend (Banks was certainly that) raises the danger level for a woman, a lot. Like driving a car across wet ice, it doesn't always lead to bodily harm, but it sure sours your odds. Under this line of thinking, Michelle's texts registered a foreboding. As a gutsy woman she was going to confront the matter and do her own packing, but at some level she may have expected an absolute volcano of anger.
Michelle was right-handed but the gun found laying on her left side, and skeptics believe the entire scene was staged. Later investigators did turn up some neighborhood women who remember hearing what they think were Michelle's final moments–in the sequence of scream, shot, scream, shot, silence. Indeed, an extra bullet was lodged in the carpet, and murder theorists ask, Who needs two bullets to commit suicide? Especially preceded by a scream each time?
These are only the highlights of the two points of view. Read the SJSO's lengthy report, apparently written by the Sheriff himself, and then Google your way to the PBS documentary "A Death in St. Augustine," from 2013. It exercises the opposite slant from the Sheriff's, seeming to point to murder as much more likely.
In the end, you be the judge.
One of two scenarios unfolded in St. Augustine that night. Which one?
DR. ANDERSON'S TAKE
Michelle's family claims important pieces of evidence were either thrown away or quickly deemed unimportant
There's the black glove found on the wet car.
"It hadn't rained that night. There's no water on his sheriff's car or Michelle's car," said Michelle's mother Patty. "I figured he hosed off outside before all the police come in."
And the family says a box of black medical gloves in Jeremy's patrol car was never tested against the one found on his car.
But the family says there were more alarming inconsistencies. Two shots were fired that night, the second being fatal. But the first?
"The shot was fired into her direction into a downward manner, the way the carpet fibers were and the bullet projectile," said Ciarra Morris, Michelle's best friend.
But most perplexing to Patty and the others, the gun was found next to Michelle's left hand. Michelle was right-handed.
No DNA was found on Jeremy's own handgun, the one that Michelle was shot with.
"I'm like wait a minute — he has no DNA on it, it was wiped clean, but they only had some of Michelle's DNA," said Patty.
Reportedly there wasn't any blood on the gun either.
And according to Michelle's family, one of the biggest mysteries is the missing bloody shirt.
"There was a bloody shirt and what appears to be a gunshot hole through the shirt found photographed on the bed behind Michelle," said Ciarra Morris. "It was actually thrown into a biohazardous waste disposal."
"It's my belief that he took the clothing, wrapped it around his police firearm and used it to stop blood splatter," said Patty. "That piece of evidence is gone."
But St. Johns investigators ruled out these pieces of evidence as pointing to homicide, and declared Michelle had killed herself.
Does the family believe there was an agency cover-up?
But after the autopsy, even the medical examiner ruled it a suicide. Then, bizarrely, one of the assistant medical examiners later amended the death certificate to say "shot by another person."
The case was closed. But the O'Connells weren't about to give up.
In short time, two new witnesses came forward saying they heard more than just gunshots. They also heard screaming.
"They passed an FBI standard polygraph. Nothing showed any red flags of deception, and that's crucial for people to know," said Jennifer Crites, Michelle's sister.
The sheriff's office deemed the witnesses as not credible.
Months later Florida Governor Rick Scott bowed to pressure and the case was reopened by the Florida Department of Law Enforcement, who brought Banks back in for questioning.
A special prosecutor was appointed, and decided not to indict Jeremy Banks. Case closed, again.
But with each new investigation, the O'Connell family grew more determined.
And now a new bombshell only Crime Watch Daily has: It would be as if Michelle was speaking to all from the grave.
Sheriff's deputy Jeremy Banks was investigated by his own colleagues. Michelle O'Connell's family, who were never interviewed by the local authorities, says there may have been a cover-up to protect one of their own.
But multiple investigations disagreed, and two separate prosecutors determined there was insufficient evidence to bring any charges against Jeremy Banks.
Years passed, the outcome seemed unchangeable. But this family was not giving up. The O'Connells wanted a second autopsy. But that could only come up with one very hard decision — and it was taken just months ago.
In January Michelle O'Connell's body was removed from its resting place. Within hours, Dr. William Anderson, former deputy chief medical examiner for Orange County, Florida, along with two dental specialists, conducted an autopsy.
"In examining the body, we saw the linear fracture which basically cut the mandible into two pieces, and that linear fracture is due to some significant amount of force striking the jaw and causing that fracture," said Dr. Anderson. "This would be blunt-force trauma."
Her jaw had been split in two.
Dr. Anderson says it could not have been caused by the gun recoiling.
"I was able to basically exclude the recoil of a weapon. There's soft tissues — the base of the mouth, the tongue, the teeth and so forth — and all of those were intact," said Anderson. "If the gun was recoiling or there was a force to do that, it would damage all those tissues."
How could this fracture possibly have been missed?
Dr. Anderson says it was on the original X-ray.
"The medical examiner did not apparently see the fracture in the X-ray, although it's pretty apparent," said Dr. Anderson.
So what could have caused the fracture to Michelle's jaw?
"The only explanation, in my opinion, is that this individual was struck by either a fist or the stock of the gun or some flat object in the front of the jaw with enough force to break the jaw," said Dr. Anderson.
…………
"My exam suggests strongly that the individual was hit twice in the face, once breaking the jaw, fell to the floor, the gun was inserted into her mouth while she was on the floor and fired, and this explains the position of the body, the flow of the blood, the retraction of the tongue," said Dr. Anderson. "I've never seen a suicide like this where there's evidence of potentially incapacitating trauma that occurred prior to the gunshot wound. So in my estimation, this is a homicide."
crimewatchdaily.com, May 23, 2016For every argument there's the counter-argument, that's the nature of absorbing mysteries.
The SJSO report was so persuasively put together–it might have convinced you that the Lindberg baby committed suicide .
Then, there's always the other side.
We leave you with the report above, still another autopsy, requested by the family, and Dr. Anderson's so-called bombshell findings and conclusions.
He may be right about everything he found, and inferred. But regrettably, it seems that objective witnesses were not invited to sit in and observe and confirm his findings. He's a highly respected scientist, though.
So how much weight do we give this take–Michelle was clobbered by a man in a rage, then shot. Why did all of this take three autopsies, this never-ending case?
……One of two scenarios unfolded in that home in St. Augustine that night. Which one?