Some car and history buffs are reconstructing a vintage Rolls-Royce in a barn in rural Vermont. By itself, that might not be all that remarkable, but we're not talking any old Rolls. They're assembling a painstaking replica of the early 20th century Rolls made famous by T.E. Lawrence during World War I. He triumphantly rode into Damascus in his car, aptly named the Blue Mist. Aptly, because everything about Lawrence of Arabia was as much legend as truth, surrounded by the fog of war.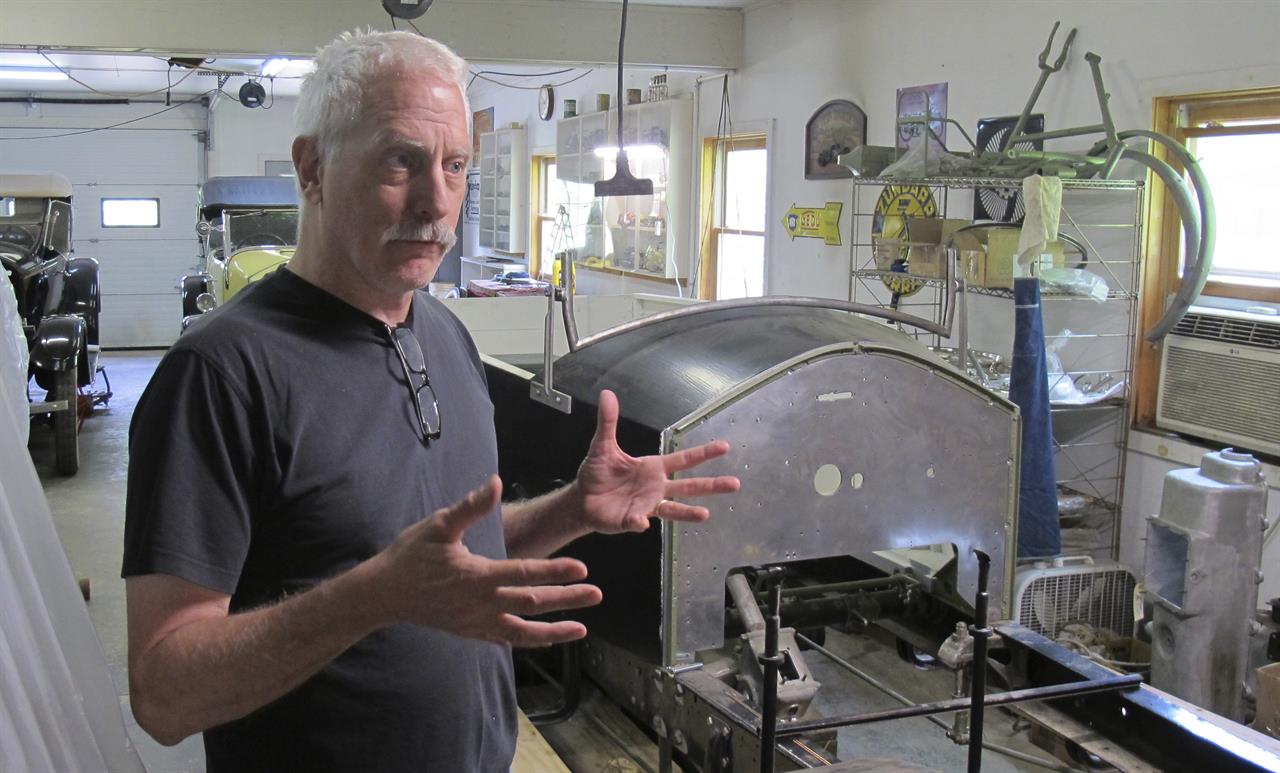 James Stejskal poses with a Rolls Royce that is being built as a replica of the car known as the Blue Mist
…the men who are involved in the reconstruction of the Rolls Royce Silver Shadow say they have learned the car's origins, solving a World War I mystery. It was built in 1909 and originally purchased by a British businessman who later died in the 1912 sinking of the Titanic.
It seems a collaboration of researchers from the U.S. and the U.K. are now certain that they they know where Lawrence's Rolls, "requisitioned" after he saw it on the street in Cairo, came from, although not where it ended up. It all drips with history. The original owner of the 1909 car going down with the Titanic only three years later? In a movie script, that would be cut as over the top. Yet researchers have painstakingly traced it all, down to the number stamped on the chassis. But where is that car?
Lawrence himself will forever live at the intersection of history and myth, because only legend survives to illustrate his exploits in an Arab world that was never the same after WWI. His role in all that will be debated forever. The 1962 film immortalized him, but Peter O'toole was not Lawrence, a real man of flesh and blood who nonetheless evades our grasp.
Thus, artifacts that help connect us to that legend rise with a large, historical shine, even a replica of a long lost Rolls-Royce. If you look deep into your mind's eye you can see it now: Lawrence, in Arab dress, riding in the ultimately English car as he enters present-day Syria during the rebellion he led. It was only a century ago.
And if you find the carcass of an old, old Rolls in your grandfather's garage, check just to make sure. If it's the body of a Silver Shadow, chassis number 60985, you have something of value, and not just historically. Classic car experts estimate that, with the Lawrence connection, the old Rolls could be worth tens of millions of dollars.