Rebecca Zahau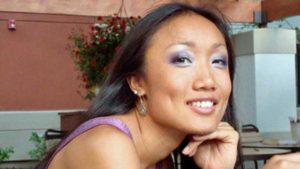 It's not every day that a body is found hanging from a rope, nude, hands and feet tied, with abrasions about the head that implied impact, multiple trauma points before death.
It's especially not every day that such a death is ruled a suicide, even though confrontations  between that person and others have recently occurred.
Thus the confounding case at the upscale mansion on Coronado Island, the death of Rebecca Zahau, on July 13, 2011.  She was the girlfriend of the twice-divorced Jonah Shacknai, a wealthy pharmaceutical executive, and lived with him at his mansion near San Diego.  She had been the adult responsible for his six-year-old son, Max, when the boy fell over a banister and suffered serious injuries, plunging him into a coma, from which he never recovered.  A few days later her body was found, hanging, by Jonah's brother, Adam, who cut it down before authorities could arrive.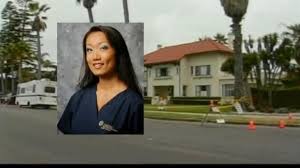 ​Police concluded that both Max's and Rebecca's death were free of foul play, but the drama continues.  Members of the Zahau family have sued Dina Romano, Max's mother and ex-wife of Jonah Shacknai, for millions for her imagined role in a wrongful death.
Where does the truth in all of this lie?  And how do the mysteries of human psychology offer up such remarkable, and tragic, events?  Join on the quest to find those answers.
Basic Facts Review
DEATH OF REBECCA ZAHAU (AS PER WIKIPEDIA)
Rebecca Mawii Zahau, 32, was discovered dead on July 13, 2011, at the Spreckels Beach House in Coronado, California, owned by her live-in boyfriend Medicis Pharmaceutical CEO Jonah Shacknai. Zahau's death occurred two days after Shacknai's 6-year-old son, Max, took a fatal fall from a staircase banister in the same beach house. Zahau was the only adult present at the time of his fall. San Diego Sheriff Bill Gore announced on September 2, 2011, that Zahau's death was a suicide while the younger Shacknai's was an accident, and that neither was the result of foul play. Members of Zahau's family sued Max's parents for $10 million, disputing the contention that her death was suicide.
BACKGROUND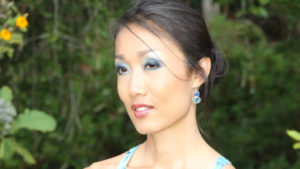 Zahau (born March 15, 1979), also known as Rebecca Nalepa, was of Burmese immigrant origin. She was born in Falam, Chin State, a town in the Chin Hills in northwestern Burma, to her father Khua Hnin Thang and mother Zung Tin Par (also known as Pari). She came from a family of Chin ethnicity and was raised as a Protestant. She moved to Nepal and then Germany. She moved to the United States about 10 years before her death. Her parents and most family members live in Saint Joseph, Missouri. She had an older sister, Mary Zahau-Loehner, a younger sister, Snowem Horwath, who lives in Germany, and a teenage sister, Xena Zahau, among other siblings. In August 2009, Zahau was arrested for shoplifting under the name Rebecca Nalepa. She pled guilty to stealing $1,000 worth of jewels from Macy's in Phoenix, Arizona. In 2002, she had married then-36-year-old nursing student Neil Nalepa of Scottsdale, Arizona; they divorced in February 2011. She began dating Shacknai in 2008, while still married to Nalepa. She worked as an ophthalmic technician until quitting in December 2010.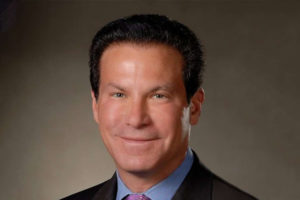 Jonah Shacknai, the 54-year-old CEO of Medicis Pharmaceutical,[6] was born in Suffern, New York and lived in Arizona but often took vacations with his family to the Coronado house. His position made him Arizona's ninth-highest-paid CEO, earning $6.4 million in 2010. He had been married twice. His first marriage to Kimberly James resulted in a divorce and a three-year custody battle between 1998 and 2001 involving the couple's two children from that marriage. He would go on to have a son, Maxfield Aaron "Max" Shacknai (born June 7, 2005), with second wife Dina Romano. However, Shacknai and Romano's marriage was marked by ongoing claims of violent domestic abuse from both parties and ended in divorce in Maricopa County, Arizona.
OVERVIEW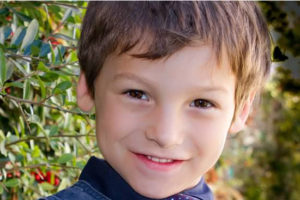 On July 11, 2011, Zahau and Max Shacknai were at the Spreckels Beach House along with Zahau's teenage sister Xena when Shacknai's son Max fell over a second-floor banister. Investigators speculate he may have tripped over a ball or the dog. He fell face-first, suffering injuries to his spinal cord and facial bones, the former of which affected his heart rate and breathing. Zahau said she was in the bathroom at the time; she found Max moments later, and her younger sister called 911. Max was not breathing and unresponsive, and was taken to Rady Children's Hospital. Max died on July 16 due to brain damage caused by oxygen deprivation resulting from his injuries.
On July 26, investigators ruled the boy's death as an accident. However, a trauma doctor who examined Max prior to his death and autopsy stated to police that he did not believe Max's visible injuries from his fall were consistent with the cardiac arrest and brain swelling experienced by him, and suggested that Max may have suffocated prior to his fall.
ZAHAU'S DEATH
On July 12, the day before her death, Zahau went to the airport to drop off her 13-year-old sister for her flight back to Missouri, and then picked up Shacknai's brother Adam Shacknai, who had just arrived on a flight from Memphis. Zahau and Adam Shacknai ate dinner with Jonah Shacknai and his friend Howard that evening, and then returned to the beach house. Adam Shacknai stayed at the house that night. There were reports of loud music coming from the house that evening. Jonah Shacknai was supposedly keeping a vigil at Max's bedside with Max's mother Dina Romano; he would leave the hospital to recuperate at a nearby Ronald McDonald House. Adam Shacknai stated that he found Zahau nude, hanging from a balcony, with her wrists and ankles bound, at roughly 6:45 AM on the morning of July 13. He called 911 at 6:48 AM, and then sent a text message to his brother to inform him of the news. He cut the body down prior to police's arrival.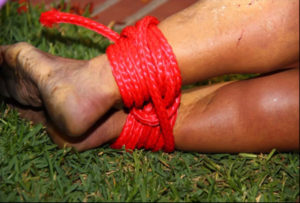 Zahau was gagged with a blue, long sleeve T-shirt wrapped around her head with the sleeves double knotted and stuffed into her mouth. There was also what appeared to be tape residue on her legs. Medics attempted to revive her, but pronounced her dead at the scene. The police initiated forensic and toxicology testing on her body as part of an autopsy to determine the cause of death. She was buried at St. Joseph's Memorial Park in St. Joseph, Missouri on July 23. Speculations of foul play began early on in the case; however, investigators were unable to find any other DNA at the scene besides Zahau's. On September 2, the San Diego County Sheriff's Department formally announced their finding that Zahau committed suicide.
An excerpt below from comments from attorney Roy Black, for the Daily Mail, discusses some nuts, and bolts.
"How could one person do this? How could it be suicide? Isn't this unprecedented? All questions asked by the public and advocated by Rebecca's family and their lawyer. All good questions that deserve an answer, and that answer can be found in the forensic reports.
The crime scene technicians collected 10 DNA samples: from the rope used to bind her hands and feet, the rope looped around her neck, the section of rope anchored to a footboard of the guestroom bed, and a small knife next to the bed which may have been used to cut the rope. All the DNA collected was Rebecca's, and none was from any third party.
The technicians collected a significant number of fingerprints: from the guestroom door entry, the balcony door, the bed leg holding the rope, and from another knife discovered in the guestroom. All these prints were Rebecca's and none were from a third party.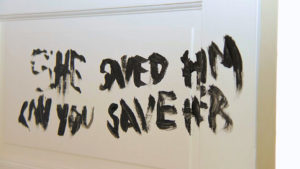 An unusual message was painted on the door leading to this guestroom. It said, "She Saved Him. Can You Save Her." Only Rebecca's prints were found on the paint tube left in the room and she had splotches of the same paint on her hand and torso. The floor of the balcony holding the rope was very dirty and easily captured footprints. Only her footprints–other than a police officer's boot–were found. There was no evidence of a struggle, and she didn't have any defensive wounds on her body.
So how did she die? Rebecca was in excellent shape. Her friends called her a "health nut" who aggressively worked out and was a fit, strong young woman. We have to assume that if another person did this to her, she would have aggressively fought back. The toxicology tests found no drugs or alcohol in her blood. She was stripped naked. Her hands and feet bound. A rope was put over her neck. Was she dragged up to the second floor and carried out to the balcony and thrown over? How could anyone do all this without leaving behind a scintilla of microscopic evidence?
They would have to have been wearing a full rubber suit or some type of space suit and levitated over the scene. As Sherlock Holmes noted, "When you have eliminated the impossible, whatever remains, however improbable, must be the truth."
And is suicide that improbable? Rebecca had left her job to care for six-year-old Max. She was responsible for his care and was in the bathroom when he went over a balcony, hit a chandelier and crashed head first into the floor. She valiantly performed CPR on him. At first the medical reports were hopeful, but then at 12:50 a.m., she hears the shocking news about Max's worsening condition. Within two hours, in a fit of despair, she hangs herself. Is this so hard to grasp? Any parent who suffers the death of a young child, especially under these circumstances, can understand her state of mind.
Who in the short two hours between the news that Max had taken a turn for the worse and the hanging could have accomplished this impossible feat? The sheriff has determined that cell phone evidence and video cameras at the hospital confirmed that Jonah Shacknai was at the hospital standing vigil for Max the entire time when Rebecca Zahau's suicide occurred. Video cameras at the hospital also showed Dina was there during that time period. And Jonah's brother Adam, who discovered Rebecca's body, was polygraphed and cleared as well.
As a trial lawyer, I deal with facts and evidence in a court of law. It is clear that at least in some quarters of the court of public opinion, there is a different standard. As one of my journalist friends once told me, "Some of my colleagues never let the facts get in the way of a good story." This should not be allowed to happen under circumstances where people have already suffered so much because of the tragic deaths of loved ones."
Roy Black, Daily Mail
DISCUSSION:
So, an accidental death for young Max, while Rebecca was otherwise occupied…
Excruciating guilt on her part, and a suicide…
An accident and a suicide, on what we know thus far, what say you?
Afterthoughts
The 6-year-old son of a prominent pharmaceutical executive was likely assaulted and then sent plunging to his death over a balcony inside his father's San Diego mansion last year, according to a report by two medical experts.
The new report concludes that Max Shacknai, son of Medicis Pharmaceuticals chief Jonah Shacknai, was the victim of a homicide — not an accident, as authorities had ruled in the July 2011 death inside Shacknai's historic San Diego Bay mansion.
Fox News, August 07, 2012
Two respected and responsible professionals were brought in to the unusual case:
Shacknai hired Dr. Judy Melinek, a San Francisco-based forensic pathologist, and Dr. Robert Bove, an injury biomechanics expert, to review the case. Both concluded the child — found unresponsive on the first floor of his father's home — was beaten and then forced over the balcony either against his will or in a desperate attempt to escape his assailant.
"I can't imagine anyone in the world wanting to harm Maxie," Shacknai told FoxNews.com. "He was the most sweet, loving and gentle boy."
Shacknai's girlfriend, 32-year-old Rebecca Zahau, was watching the boy along with her 13-year-old sister when the incident occurred on July 11, 2011. Jonah Shacknai, 53, was not home at the time. Zahau told investigators that she was in the bathroom when she heard a loud noise and then found the boy lying on the first floor with broken pieces of a chandelier beside him….
A report by the San Diego County medical examiner's office ruled that the manner of his death was accidental. But Dina Shacknai said doctors treating Max were immediately suspicious of his injuries and contacted Child Protective Services, which she said launched a probe and then dropped it once the medical examiner ruled the death an accident.
Fox News, August 07, 2012
The report continued, with surprisingly strong conclusions:
Melinek told FoxNews.com that the child had injuries to his body that could not have been caused from a fall alone. She also said it was impossible for the child to have accidentally bumped into the balcony and then fallen over.
"It doesn't make any sense. It defies gravity," Melinek said of the scenario presented by Coronado police working in collaboration with Dr. Mark A. Gomez, who authored the first report in the case. "He's got too much injury for just a simple fall from the railing," she said, adding that the boy's center of gravity was too low for him to have flipped over the banister on his own.
"The fall alone … would not account for the abrasions and contusions along the right forehead, inner eye and lids, the left ala, or the right shoulder and neck," the report reads. "The more planes of injury … the more likely that an incident is the result of an assault rather than a simple or even complex fall."
"The nature and location of Max's skull fracture and subgaleal contusion are indicative of a head-first contact with the first floor surface and thus are consistent with Max moving or being moved over the railing following the assault causing him to fall to the first floor…"
Fox News, August 07, 2012
No one has, or is likely to be, charged in Max Shacknai's death. His caregiver at the time, Rebecca Zahau, died days later in what was ruled a suicide.
The Zahau family never believed the suicide finding, and launched a civil action for wrongful death against Max's mother and aunt, later dropped when their whereabouts on the night Rebecca died were firmly established. As of this writing, a wrongful death civil suit is still pending against Adam Shacknai, the child's uncle, who found Rebecca deceased and cut her from the rope.
What do you, the MindOverMystery family, make of all this? Are the medical professionals over-interpreting, or grandstanding for national recognition? Just speculating? Or was the child a victim of an outburst of violence?
If his death was manslaughter, does that make a later suicide by Zahau more likely, or less likely? Could someone have attacked her in rage, while Max was still clinging to life? Remember, she died while the parents were still at the child's bedside as he was clinging to life.
MindOverMystery, the worldwide community of mystery solvers, hopes you will weigh in and help us understand this bizarre, almost inexplicable case.