Marilyn Monroe
On the surface there's no mystery at all, just the original, tortured Hollywood superstar, all coquettish smiles on the outside, with pain and desperation on the inside.  She had been depressed, and under psychiatric care for years.  One night when her despair was deep she went too far, and her death by overdose seemed ordained, the end that fate had in store for our Marilyn.
But more than pain lies just below the surface of a death.  Untold stories, hidden connections and other secrets, can lie sleeping in the grave as well.  Some of America's most powerful men breathed more easily once Marilyn was dead.  And key evidence, by accident or by intent, was gone with the wind of a scandal that perhaps was, or perhaps only seemed to be.
What happened in the months before Marilyn's death, and what happened that night?  Join us  on a  journey of tragic discovery.
HOW IT ENDED, AND BEGAN
From the Archives: Marilyn Monroe Dies; Pills Blamed
Marilyn Monroe, a troubled beauty who failed to find happiness as Hollywood's brightest star, was discovered dead in her Brentwood home of an apparent overdose of sleeping pills Sunday.
The blond, 36-year-old actress was nude, lying face down on her bed and clutching a telephone receiver in her hand when a psychiatrist broke into her room at 3:30 a.m.
She had been dead an estimated six to eight hours.
About 5:15 p.m. Saturday she had called the psychiatrist, Dr. Ralph Greenson, and was told to go for a ride when she complained she could not sleep, police reported.
Her body was taken to the County Morgue, where Coroner Theodore J. Curphey said after an autopsy that he could give a "presumptive opinion" that death was due to an overdose of some drug.
He said a special "suicide team" would be asked to investigate Miss Monroe's last days to determine if she took her own life.
Further medical tests as to the nature of the suspected killer drug will be completed in 48 hours, he said.
An empty bottle found among several medicines beside her bed had contained 50 Nembutal capsules. The prescription was issued only two or three days ago and the capsules were to be taken in doses of one a night, said Dr. Hyman Engelberg.
Believed in Depressed Mood
It was learned that medical authorities believed Miss Monroe had been in a depressed mood recently. She was unkempt and in need of a manicure and pedicure, indicating listlessness and a lack of interest in maintaining her usually glamorous appearance, the authorities added.
The coroner's office listed the death on its records as possible suicide while the police report said death was possibly accidental.
No suicide note was found.
Dr. Robert Litman, a psychiatrist serving on the suicide team, said notes are left by less than 40% of those who take their own lives. Miss Monroe's body was discovered after her housekeeper and companion, Mrs. Eunice Murray, awoke about 3 a.m. and saw a light still burning in the actress' room.
Mrs. Murray found the bedroom door locked. She was unable to arouse Miss Monroe by shouts and rapping on the door, and immediately telephoned Dr. Greenson.
The above is what you would have read in Marilyn's hometown paper, the LA Times, had you awoken the morning of August 6, 1962.
The narrative paints a clear picture, conveys clear facts. But was all of that narrative fact, and none it fiction?
Her death mirrored her life in several senses.  She was a product of Hollywood, the industry of illusion.  Her death, like her life, was stage managed, with a public presentation, and a very different private reality.
The first wizened, experienced cop on the scene, Jack Clemmons, later reported the sense of staging, of a show that the living were putting on to explain the dead body. He noted that Marilyn's housekeeper, Eunice Murray, was running the washing machine in the middle of the night, and he considered her evasive.
He was suspicious of how psychiatrist Ralph Greenson gestured across empty pills bottles on Marilyn's nightstand, as if filming a commercial that called for a sweeping movement of the hand. He saw no glass of drinking water around to wash down all those pills, although in photographs taken later one mysteriously appeared. There was no one thing for Clemmons to bore down on, just the myriad small details that, to an veteran cop, tell him something isn't quite right.
As higher levels of police and pathologists became engaged, they were treading carefully around the reputations of influential citizens like Doctor Greenson, and the respectable lawyers and Hollywood players who'd been in contact with Marilyn toward the end.
It's a bit like the principle in baseball–a tie goes to the baserunner. In death investigations, even ones with a good number of unanswered questions, a tie goes to powerful living people, not deceased ones. In simple terms, if nothing absolutely clear or compelling spells foul play, the death of a sometimes depressed actress known to heavily use pills will be ruled an "accidental overdose" or even a "probable suicide," not a suspicious death. The "probable suicide" ruling held sway in this case.
But was it the truth?
A SEARCH FOR DEPTH
The following excerpt from Vanity Fair, a section that discusses Marilyn in love with the man, and the artistic respectability represented by the nation's leading playwright.
Miller possessed those traits she most admired: intellectual and artistic achievement, high seriousness. They wed in a civil ceremony on June 29, 1956, Marilyn having converted to Judaism. Two days later, Lee Strasberg acted as her father, giving the bride away in an intimate Jewish wedding. At first, she was deliriously happy, moving back to New York with her new husband to take up residence in her dazzlingly white apartment at 2 Sutton Place, to which she had moved after leaving the Waldorf-Astoria, and then on to 444 East 57th Street, in an apartment with a book-lined living room, complete with fireplace and piano. In the Italian, green, engraved diary, she wrote,
"I am so concerned about protecting Arthur I love him—and he is the only person—human being I have ever known that I could love not only as a man to which I am attracted to practically out of my senses about—but he [is] the only person … that I trust as much as myself—because when I do trust my- self (about certain things) I do fully…"
They were probably happiest in the summer of 1957, spent in a rented house in Amagansett, on Long Island, where they swam and took long walks on the beach. She looks especially radiant in photographs from this era, when she happily entered into Miller's world—for example, attending a luncheon given by the novelist Carson McCullers for the writer Isak Dinesen. Marilyn was gay and witty in this company, easily holding her own—her vitality and innocence reminded Dinesen of a wild lion cub. She became friends with writer Truman Capote and met some of her literary heroes, such as poet Carl Sandburg and novelist Saul Bellow, with whom she dined at the Ambassador Hotel on the occasion of the Chicago premiere of Some Like It Hot. Bellow was bowled over by her.
Several photographs taken of Marilyn earlier in her life—the ones she especially liked—show her reading. Eve Arnold photographed her for Esquire magazine in a playground in Amagansett reading James Joyce's Ulysses. Alfred Eisenstaedt photographed her, for Life, at home, dressed in white slacks and a black top, curled up on her sofa, reading, in front of a shelf of books—her personal library, which would grow to 400 volumes. In another photograph, she's on a pulled-out sofa bed reading the poetry of Heinrich Heine.
If some photographers thought it was funny to pose the world's most famously voluptuous "dumb blonde" with a book—James Joyce! Heinrich Heine!—it wasn't a joke to her. In these newly discovered diary entries and poems, Marilyn reveals a young woman for whom writing and poetry were lifelines, the ways and means to discover who she was and to sort through her often tumultuous emotional life. And books were a refuge and a companion for Marilyn during her bouts of insomnia.
Vanity Fair, 10/5/2010, Sam Kashner, "Marilyn and her Monsters"
"It takes a smart brunette to play a dumb blond," she once said. The fact that Marilyn only acted (deliberately and expertly) the dumb blond is central to understanding her frustration at how she was used, and misused, throughout her life and career. Especially in the early years, but often later as well, she was treated dismissively, as "a vacuum with nipples" as the mean and low-spirited Otto Preminger was quoted as saying.
Ironically though, it was Marilyn who was likely to roll her eyes at conversation with no real content. She had to get past the impression that Joe Dimaggio only knew about baseball to take him seriously as the man in her life. Her other celebrity husband, playwright Arthur Miller, attracted her largely because of the fact, and image, of the brilliant, creative intellectual. She later noted somewhat wistfully that had she ever found a composite of the two–a man of Joe's superior character and Arthur's sophistication–she might have lived a happily married woman forever.
The longer one engages with Marilyn's story, the instability of her childhood, her mother's ongoing mental illness, and the rest of it, the more complex and multidimensional she becomes. Yes, she was at times a psychological mess, although she fought past much of that.
And she did present a hard-nosed career edge, a young woman looking to succeed Hollywood, willing to do whatever it might take.
But for all of that, friends were charmed by her wit, her comic take on the world that played so well on the screen, and the native intelligence that drove all that. She may have missed out on formal education, but never lacked a fully developed IQ, nor intellectual curiosity.
Her departure from Tinseltown in late 1954, to base herself in New York for a few years, was more than a tacit rejection of the cold, bottom-line values of Hollywood executives. As a New Yorker, she soaked up culture, from meeting her generation's greatest writers to attending many a poetry reading or high-brow dinner party.
Certainly she wished to be seen as more than a body in a tight dress, but she wished to be a fully developed soul as well. Try to imagine the frustration of any bright woman living in the 1950's with a modeling and acting career: the simple expectation was a body full of curves with luscious hair, preferably blond, perched on top.
As Marilyn kept company with Bobby Kennedy on Peter Lawford's estate, and trailed after him jotting notes about matters of justice and world affairs, she could be viewed as the sad caricature of the sophisticated wannabe. But the interest was sincere, and but for the dice of opportunity, Marilyn might well have been a professor of sociology–albeit a quirky one who tried the patience of her colleagues.
Her search for herself, for the real Marilyn inside, could and does fill numerous volumes. Thousands of her own words are recorded, quotes ranging from clever one-liners to sensitive letters that flow for pages. Follow those leads, and see if you think a girl's only best friend is a diamond.
FACTS ABOUT HER DEATH YOU DIDN'T KNOW
1: Marilyn Monroe Died from a Nembutal Overdose but No Pills Were Found in Her Stomach
According to the coroner's report, Marilyn Monroe overdosed on over 40 Nembutal pills. However, no pills were found in her stomach. Deputy coroner Thomas Noguchi later explained the lack of pills as a result of Monroe's long history of substance abuse. The pills in her stomach were digested more quickly than they would have been by someone who wasn't an addict.
Yet, the fact that no pills were found in her stomach has been used by conspiracy theorists through the years to support their theory that perhaps she did not die of an overdose at all, but instead was killed either by the CIA, FBI, or her own housekeeper.
Marilyn Monroe: The Biography
Noguchi was in a tough spot, apparently, as LA's "coroner to the stars." From his express comments at various times, and reading through the lines as well, Noguchi didn't believe the full story had been told.
Noguchi never wavered from his official verdict of "probable suicide," and yet more than once he suggested the investigation be reopened. And according to a CBS news report, Noguchi has conceded that no one will likely ever know all the details of Monroe's death.
A factoid about the autopsy–young Nuguchi was surprised he was assigned Marilyn's case. Usually the senior man, Dr. Theodore Curphey, took high profile cases himself, but this one he bounced to Noguchi. Why?
A suspicious Sherlock would wonder…just coincidence, or did Curphey want some wiggle room, some distance, from a case where he knew the backstory was touchy, perhaps involving the rich and very famous?
2: Her Housekeeper Was Found Washing Her Bed Sheets the Night of Her Death
Sergeant Jack Clemmons of the Los Angeles Police Department was the first person to arrive on the scene of Monroe's death. Later, in his own writings of the event, he recalled that Monroe's housekeeper Eunice Murray was running the washing machine when he arrived. He also noted that Murray was acting strangely and was evasive when questioned.
Detective Sergeant Robert E. Byron, who arrived on the scene a few minutes after Clemmons, also noted in his report that Murray was acting like an unreliable witness. He wrote:
"It is officer's opinion that Mrs. Murray was vague and possibly evasive in answering questions pertaining to the activities of Miss Monroe during this time."
Conspiracy theorists have used Murray's behavior the night of Monroe's death as proof that there was something inappropriate and fishy going on, and that perhaps the housekeeper knew more than she was letting on.
Marilyn Monroe: The Biography
There's that overused phrase again, "conspiracy theorists." If it means "someone had something to hide," then there's abundant evident that something "fishy" was going on, but that doesn't mean exactly what is clear.
The most logical explanation for laundry at that hour, in the wake of her death: the sheets were an unseemly reminder of the intense sedative suppository she'd been given, which had lead to her death.
3: She Left an Ominous Message Before Her Death
Monroe spoke to several people on the phone the night of her death. Among them was Peter Lawford, an old friend of the actress and the brother-in-law of John F. Kennedy. According to Lawford, Monroe seemed to be under the influence of drugs, and he also claims she told him:
"Say goodbye to Pat [Patricia Newcomb, her publicist], say goodbye to the president, and say goodbye to yourself, because you're a nice guy."
Lawford became extremely worried about Monroe's state, and phoned several people to check up on her. When he was unable to reach Dr. Greenson he called Monroe's lawyer Milton A. Rudin, who in turn reached out to Monroe's housekeeper, who told him that Monroe was fine.
This message, however, has further fueled conspiracy theories that perhaps John F. Kennedy and the government were somehow involved in Monroe's death.
Marilyn Monroe: The Biography
The message, if accurate, more likely spoke to Marilyn's lingering pain to have been cut off so sharply by President Kennedy.
Her relationship with both Kennedy brothers rises as it's own book-length study but the basics are simple–they used and misused her–she finally caught on and felt like a huge sucker. Her fury, and presumed threats to be loose-lipped about the matter, frightened the Kennedy camp.
There's also reason to wonder how honest Lawford's early testimony on Marilyn's death was, where his loyalties lay amidst the possible scandal. Some claim he told very, very different tales just before his death.
4: She Went from Happy to Dying in Less Than Thirty Minutes
Monroe took a phone call from Joe DiMaggio, Jr. between 7:00pm and 7:15pm and by all accounts had a happy conversation with the 20-year-old, during which DiMaggio, Jr. told her that he'd just broken up with a young woman Monroe disliked. Housekeeper Eunice Murray also later confirmed that Monroe was "happy, gay, alert – anything but depressed" during the talk.
Monroe took her last call of the night from Peter Lawford about half an hour later at 7:40pm or 7:45 pm, during which Lawford noted she sounded slurred and barely audible.
The coroner later observed:
"Monroe was laughing and chatting on the telephone with Joe DiMaggio's son…and not thirty minutes after this happy conversation, Marilyn Monroe was dying…This was one of the strangest facts of the case."
Marilyn Monroe: The Biography
Well, she a complicated, moody, volatile lady.
But the fact noted by the coroner tends to point away from deliberate suicide. It reinforces the theory that Marilyn was medically ultra-sedated–to keep her quiet and cooperative at least one night–by her psychiatrist, and the mistake in dosage killed her.
5: The Police Were Not the First to Be Notified of Her Death
The police weren't notified of the death until after Monroe's psychiatrist Dr. Greenson and physician Dr. Hyman Engelberg had visited her home. The Los Angeles Police Department was called around 4:25am, almost an hour and a half from when Monroe was found unresponsive by her housekeeper at 3am. During that time Eunice Murray, Dr. Greenson, and Dr. Engelberg were alone at the scene.
When Sergeant Jack Clemmons inquired as to why police hadn't been notified earlier, he was told by Greenson that he "had to get permission from the publicity department at the studio before he could notify anyone."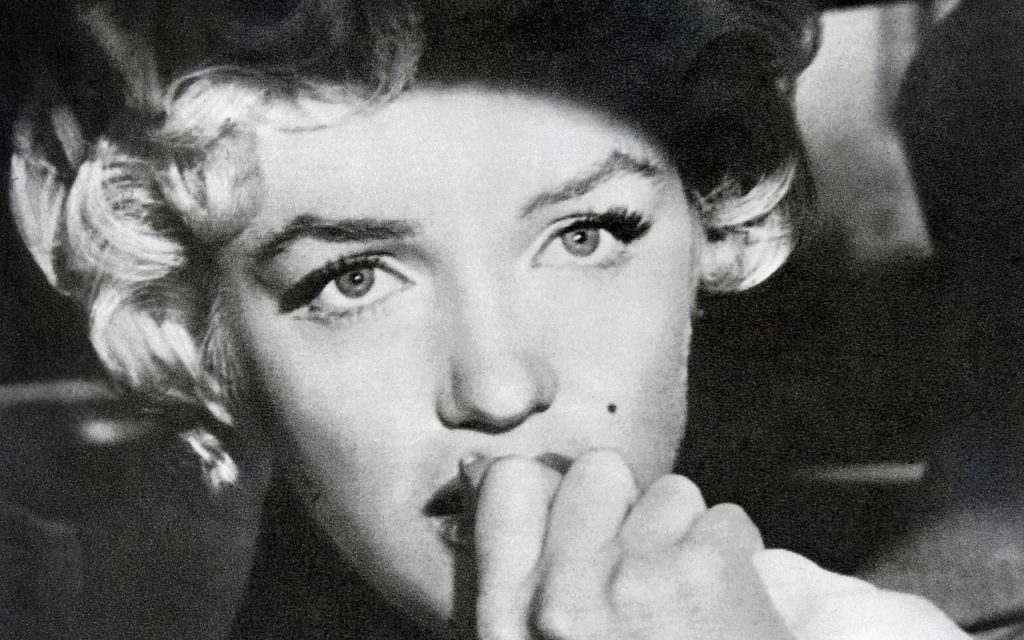 Marilyn Monroe: The Biography
These details constitute the strongest evidence that there truly was "something inappropriate and fishy going on."
There's no legitimate excuse, absolutely none, for delaying communication with the proper authorities. It reeks of staging, and connivance.
6: The Housekeeper's Timeline Changed Frequently
Eunice Murray's story changed often the night of Monroe's death. She originally claimed she awoke around 3am and saw a light under Monroe's door, which caused her to become alarmed. She said she phoned Dr. Greenson, who arrived a few minutes later.
However, according to Sergeant Jack Clemmons, Murray told him that she phoned Greenson around midnight. She later changed the time to 3am when questioned by a different detective.
Other people who claimed they were told Monroe had died around midnight were Peter Lawford, who persisted in trying to check up on her after their earlier conversation, and Milton Rudin, her attorney, who was given the news by Dr. Greenson himself.
These discrepancies in time have been interpreted as proof that Greenson and Murray were staging their own cover-up of the actress's death between midnight and when the police were finally called at 4:25am.
Marilyn Monroe: The Biography
There's almost no question regarding the logic of a cover-up.
But a cover-up of what, precisely, that's a much tougher question.
7: Joe DiMaggio Arranged Her Funeral
DiMaggio was left devastated by Monroe's death. He arranged the star's funeral as a very private ceremony with most of her prominent Hollywood friends excluded. People like Frank Sinatra and Peter Lawford were deliberately not invited by DiMaggio, who believed that her Hollywood friends and acquaintances had reduced her to the state that led to her untimely demise. Only thirty of Monroe's closest friends and relatives, including her half-sister Berniece Baker Miracle, were invited.
Monroe was buried in a green Emilio Pucci dress, and her longtime makeup artist Whitey Snyder made up her face for the last time.
Marilyn Monroe: The Biography
If one more book were ever published about the epic which was Marilyn's life, it should be called Joe and Marilyn: A Love Story.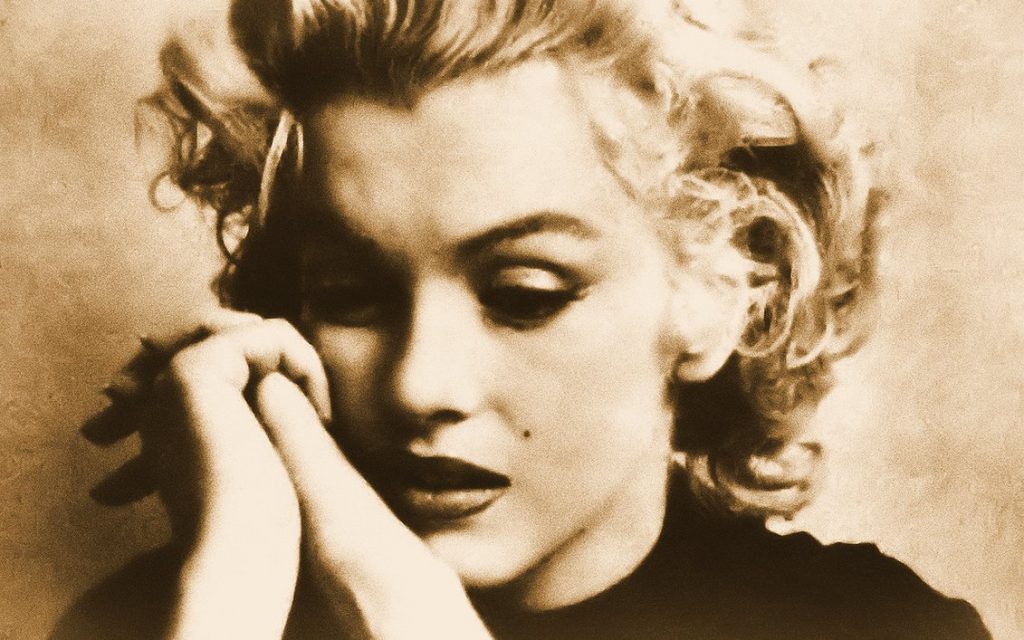 THE AFTERMATH
Conspiracy Theories Surrounding the Death Did Not Gain Full Steam Until the 1970s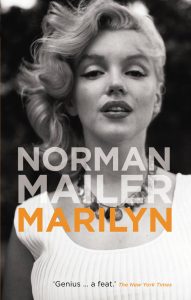 Norman Mailer's biography of Marilyn Monroe was one of the first to suggest that foul play was a factor in Monroe's death. In the 1960s, a self-published biography by Frank A. Capell made claims that Monroe was murdered as part of a communist conspiracy, but it wasn't until Mailer's account was published in 1973 that the conspiracy theories really took hold.
Mailer was the first to suggest Monroe had an affair with Robert Kennedy, and that her involvement with him led to her death. He was savaged by critics for his implications and later admitted: "I'd say it was ten to one that [Monroe's death] was an accidental suicide."
When questioned as to why he felt the need to bring Robert Kennedy into it, he said:
"I needed money very badly."
Following Mailer's accusations against RFK, biographer Robert F. Slatzer in 1975 further argued that Monroe was killed by the attorney general because she threatened to go public with government secrets Kennedy had confided in her.
Also in 1975, journalist Anthony Scaduto published an article alleging Monroe was ordered to be killed by the Kennedy brothers, and that she kept a "red diary" where she supposedly stored secret government information the Kennedys had confided in her.
Marilyn Monroe: The Biography
The death of Mary Jo Kopechne in Ted Kennedy's car at Chappaquiddick in 1969 and Monroe's death several years earlier have one resounding fact in common (in addition to the specter of the Kennedy clan hanging over them).
In both cases the deaths were known long before people on site turned them over to law enforcement.
They could have and certainly should have been reported to authorities in a timely fashion. But they weren't, the source of much of the speculation, to this day, of what in the world actually happened.
The Case Was Almost Reopened in 1982
Following the many conspiracy theories published in the 1970s, Los Angeles Attorney General John Van de Kamp ordered a review (which spanned 29 pages and took three and a half months to prepare) of the actress's death in 1982.
After a thorough investigation Van de Kamp found that there was no foul play in Monroe's death, noting:
"Based on the evidence available to us, it appears that her death could have been a suicide or a result of an accidental drug overdose. It is possible that while her ingestion of a lethal quantity of barbiturates was voluntary, she may have been in such a state of emotional confusion that she lacked a clearly formed purpose."
The attorney general added that no further inquiry was planned into Monroe's death and that reopening the case was unnecessary.
Marilyn Monroe: The Biography
Understandably, lawyers make conservative decisions in these situations. Why investigate some sort of juicy scandal, a possible murder, if the best evidence and witness are long gone, or contradictory? The prosecutor will look a grandstander at best, and at worst make lifelong enemies of powerful people, such as the Kennedys.
So in these situations you'll hear lawyer talk, "available evidence," "it appears that," a death that "could have been" this, or that. What they won't say is that given a few huge red flags, each skyscraper-sized, there's surely more to her death than meets the eye, in one way or another.
And they don't want to look foolish speculating on what, exactly.
After Her Death, Her Friends Fought Over Her Publicity Rights And Royalties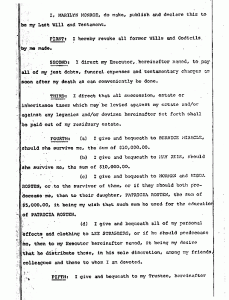 In her will, Monroe said she wanted the bulk of her estate to go to Lee Strasberg, her acting coach. This itself was a point of contention: Monroe's longtime manager Inez Melson said Strasberg tricked her into giving him the estate when it should have gone to her. A judge dismissed her claim, and Strasberg received his share.
Monroe instructed him to give some of her personal effects to close friends and family, as well as maintain her publicity rights and film investments. But, according to some of her friends, he never did. And when he died in 1982, his wife licensed Monroe's likeness and put her personal belongings on display.
The real problems, though, began when Strasberg's wife Anna started selling off belongings that were supposed to go to Monroe's loved ones. Anna Strasberg made an estimated $20 million to $30 million off Monroe's legacy. Despite several lawsuitsto stop this, Anna Strasberg was eventually allowed to keep Monroe's rights – and belongings – as part of her former husband's estate.
Marilyn Monroe: The Biography
Jack Kennedy, the most famous of all of Marilyn's lovers, reminded us that "success has a thousand fathers" while "failure is an orphan."
A similar phenomenon attends the death of the wealthy. After they're gone, people you've never heard of crawl out of the woodwork everywhere, claiming they were the dearest friend on earth of the deceased, or the unclaimed child or nephew, or that they were the brains behind all the success.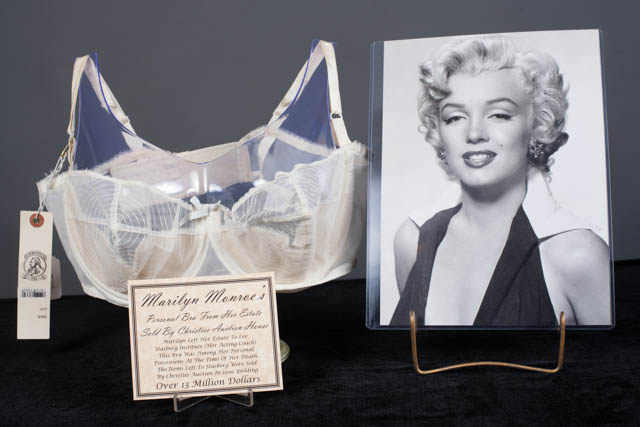 No, Marilyn didn't have a huge cash estate, but savvy individuals realized this legendary blond might be worth more in death than in life. Her royalties on films, publicity rights, the collector's value of her memorabilia. (Elvis Presley and Michael Jackson for example have posthumously earned hundreds of millions.) Marilyn would clearly be a valuable "property" for generations to come.
Especially considering she had no heirs, nor current spouse, her case was tailor made for the brawl of avarice. The main pretenders were at least plausible, such as her acting coach and her manager.
In the end a woman she never met, Lee Strasberg's second and surviving wife, made off with much of the loot. That would have really irritated Marilyn.
THE NARRATIVE
The Following is the core of a Wikipedia entry for "The Death of Marilyn Monroe." On the Wikipedia site, scrolling down, are several other sections including "Conspiracy Theories."
Don't wade through all this, unless you really want to. Much is misleading anyway.
We place all this text here because, below it, we're going to discuss how it misinforms and misleads about Monroe, without intending to:
Marilyn Monroe was found dead on August 5, 1962, at her 12305 Fifth Helena Drive home in Los Angeles of a barbiturate overdose. She was a major sex symbol and one of the most popular Hollywood stars during the 1950s and early 1960s. She was a top-billed actress for a decade, and her films grossed $200 million by 1962.[1]
At the time of her death, Monroe had suffered from mental illness and substance abuse for several years, and had not completed a film since The Misfits, released in 1961. She had spent 1961 preoccupied with her various health problems, and in April 1962 had begun filming Something's Got to Give for 20th Century Fox, but was fired in early June. The studio publicly blamed her for the production's problems, and in the weeks preceding her death, Monroe attempted to repair her public image by giving several interviews to high-profile publications. She also began negotiations with Fox on being re-hired for Something's Got to Give and for starring roles in other productions.
Monroe spent her last day, Saturday, August 4, at her home in Brentwood, accompanied by publicist Patricia Newcomb, housekeeper Eunice Murray, photographer Lawrence Schiller and psychiatrist Dr. Ralph Greenson at various times. At Greenson's request, Murray stayed overnight to keep Monroe company. At approximately 3 a.m. the next day, she noticed that Monroe had locked herself in her bedroom and was unresponsive. Murray alerted Greenson, who arrived soon after and broke into the room, finding Monroe deceased. Her death was officially ruled a probable suicide by the Los Angeles County coroner's office, based on precedents of her overdosing and being prone to mood swings and suicidal ideation. No evidence of crime was found, and accidental overdose was ruled out due to the large amount of barbiturates she had ingested. Her funeral was held on August 8 at the Westwood Village Memorial Park Cemetery, where she was interred at the Corridor of Memories.
Despite the coroner's verdict, several conspiracy theories suggesting murder or accidental overdose have been proposed since the mid-1960s. Many of these involve President John F. Kennedy and his brother, Robert, as well as union leader Jimmy Hoffa and mob boss Sam Giancana. Due to prevalence of these theories in the media, the office of the Los Angeles County District Attorney reviewed the case in 1982, but found no evidence to support them and did not disagree with the findings of the original investigation.
By the early 1960s, Monroe had for several years been dependent on amphetamines, barbiturates and alcohol, and experienced various mental health problems, including depression, anxiety, low self-esteem, and chronic insomnia.[2] She had acquired a reputation for being difficult to work with, as she frequently delayed productions by being late to film sets and often had trouble remembering her lines. By 1960, this behavior was affecting her career. For example, although she was author Truman Capote's preferred choice to play Holly Golightly in the film adaptation of Breakfast at Tiffany's, Paramount Pictures declined to cast her due to fear that she would complicate the film's production.[3] The two films Monroe completed in the 1960s, Let's Make Love (1960) and The Misfits (1961), were both critical and commercial failures.[4] During the filming of the latter she had had to spend a week detoxing in a hospital.[4] Her third marriage, to author Arthur Miller, also ended in divorce in January 1961.[5]
Instead of working, Monroe spent a large part of 1961 preoccupied with health problems and did not work on any new film projects. She underwent surgery for her endometriosis and a cholecystectomy, and spent four weeks in hospital care – including a brief stint in a mental ward – for depression.[6][a] Later in 1961, she moved back to Los Angeles after six years in New York, purchasing a Spanish hacienda-style house on 12305 Fifth Helena Drive in Brentwood.[8] In the spring of 1962, she received a "World Film Favorite" Golden Globe award and began to shoot a new film for 20th Century Fox, Something's Got to Give, a remake of My Favorite Wife (1940).[9]
Days before filming began, Monroe caught sinusitis; despite medical advice to postpone the production, Fox began it as planned in late April.[10] Monroe was too ill to work for the majority of the next six weeks, but despite confirmations by multiple doctors, the studio tried to pressure her by alleging publicly that she was faking it.[10] On May 19, she took a break from filming to sing "Happy Birthday" on stage at President John F. Kennedy's birthday celebration at Madison Square Garden in New York.[11] Monroe and Kennedy had mutual friends and although they sometimes had casual sexual encounters, there is no evidence that their relationship was serious.[12] After returning from New York, Monroe returned to filming and celebrated her 36th birthday on set on June 1.[13] She was then again absent for several days, which led 20th Century Fox to fire her on June 7 and sue her for breach of contract, demanding $750,000 in damages.[14] She was replaced by Lee Remick, but after co-star Dean Martin refused to make the film with anyone other than Monroe, Fox sued him as well and shut down the production.[15]
The studio publicly blamed Monroe's drug addiction and alleged lack of professionalism for the demise of the film, even claiming that she was mentally disturbed.[16][b] To counter the negative publicity, Monroe gave interviews to several high-profile publications, such as Life, Cosmopolitan and Vogue, in her last weeks.[19] After successfully renegotiating her contract with Fox, filming with Monroe was scheduled to resume in September on Something's Got to Give, and Monroe made plans for starring in What a Way to Go! (1964) as well as a biopic about Jean Harlow.[20]
Timeline[edit]
Monroe spent her last day alive, Saturday, August 4, at her Brentwood home.[21][22][23] In the morning, she met with photographer Lawrence Schiller to discuss the possibility of Playboy publishing nude photos taken of her on the set of Something's Got to Give.[21][22][23] She also received a massage from her personal massage therapist, talked with friends on the phone, and signed for deliveries.[22][23] Present at the house in the morning were also her housekeeper, Eunice Murray, and her publicist Patricia Newcomb, who had stayed overnight.[22][23] According to Newcomb, they had an argument because Monroe had not slept well the night before.[22][23]
At 4:30 p.m., Dr. Ralph Greenson arrived at the house to conduct a therapy session with Monroe, and asked Newcomb to leave.[23][24] Before he left at around 7 p.m., he asked the housekeeper to stay overnight and keep Monroe company.[23] At approximately 7–7:15, Monroe received a call from Joe DiMaggio, Jr., with whom she had stayed close since her marriage to his father.[25][23] He told her that he had broken up with a girlfriend she did not like, and detected nothing alarming in her behavior.[25][23] She telephoned Greenson to tell him the news (about DiMaggio's parting from his girlfriend) at around 7:40–7:45.[23][26][27]
Monroe retired to her bedroom at approximately 8 p.m.[27] She received a call from actor Peter Lawford, who was hoping to persuade her to attend his party that night.[25][26] Lawford became alarmed as Monroe sounded like she was under the influence of drugs, and told him to: "Say goodbye to Pat, say goodbye to the president [Lawford's brother-in-law], and say goodbye to yourself, because you're a nice guy", before drifting off.[25][26] Unable to reach Monroe, Lawford called his agent Milton Ebbins, who unsuccessfully tried to reach Dr. Greenson, and later called Monroe's lawyer, Milton A. "Mickey" Rudin.[25][26] Rudin called Monroe's house, and was assured by her housekeeper that she was fine.[25][26]
At approximately 3:00 a.m., the housekeeper woke up "sensing that something was wrong", and saw light from under Monroe's bedroom door, but was not able to get a response and found the door locked.[23][28] She telephoned Greenson, on whose advice she looked in through a window and saw Monroe lying facedown on her bed, covered by a sheet and clutching a telephone receiver.[23][28]Greenson arrived shortly after. He entered the room by breaking a window and found Monroe dead.[23][28] He called her physician, Dr. Hyman Engelberg, who arrived at the house at around 3:50 a.m. and officially confirmed the death.[23][28] At 4:25 a.m., they notified the Los Angeles Police Department.[23][28]
Inquest and 1982 review[edit]
Monroe's autopsy was conducted on the morning of Sunday, August 5 by deputy coroner Dr. Thomas Noguchi. The Los Angeles County coroner's office was assisted in the inquest by psychiatrists Dr. Norman Farberow, Dr. Robert Litman, and Dr. Norman Tabachnik from the Los Angeles Suicide Prevention Center, who interviewed Monroe's doctors and psychiatrists on her mental state.[29][30] Based on her advanced state of rigor mortis at the time she was found, it was estimated that she had died between 8:30 and 10:30 p.m.[31] The toxicological analysis concluded that the cause of death was acute barbiturate poisoning, as she had 8 mg% of chloral hydrateand 4.5 mg% of pentobarbital (Nembutal) in her blood, and a further 13 mg% of pentobarbital in her liver.[29] Empty bottles of these medicines were found next to her bed by the police.[29] There were no signs of external violence on the body.[32]
The findings of the inquest were published on August 17, with Chief Coroner Theodore Curphey classifying Monroe's death a "probable suicide".[29][30] The possibility of an accidental overdose was ruled out as the dosages found in her body were several times over the lethal limit, and had been taken "in one gulp or in a few gulps over a minute or so."[30] At the time of her death, Monroe was reported to have been in a "depressed mood", and had been "unkempt" and uninterested in maintaining her appearance.[1] No suicide note was found, but Dr. Litman stated that this was not unusual, as statistically less than 40 percent of suicide victims leave notes.[1] In their final report, Farberow, Litman, and Tabachnik stated:
Miss Monroe had suffered from psychiatric disturbance for a long time. She experienced severe fears and frequent depressions. Mood changes were abrupt and unpredictable. Among symptoms of disorganization, sleep disturbance was prominent, for which she had been taking sedative drugs for many years. She was thus familiar with and experienced in the use of sedative drugs and well aware of their dangers. […] In our investigation we have learned that Miss Monroe had often expressed wishes to give up, to withdraw, and even to die. On more than one occasion in the past, she had made a suicide attempt, using sedative drugs. On these occasions, she had called for help and had been rescued. It is our opinion that the same pattern was repeated on the evening of Aug. 4 except for the rescue. It has been our practice with similar information collected in other cases in the past to recommend a certification for such deaths as probable suicide. Additional clews for suicide provided by the physical evidence are the high level of barbiturates and chloral hydrate in the blood which, with other evidence from the autopsy, indicates the probable ingestion of a large amount of drugs within a short period of time: the completely empty bottle of Nembutal, the prescription for which (25 capsules) was filled the day before the ingestion, and the locked door to the bedroom, which was unusual.[30]
Due to the claims that Monroe had been murdered that surfaced in the 1970s, Los Angeles County District Attorney John Van de Kamp assigned his colleague Ronald H. "Mike" Carroll to conduct a "threshold investigation" in 1982 to see whether a criminal investigation should be opened.[33][34][35] Carroll worked with Alan B. Tomich, an investigator for the district attorney's office, for over three months on an inquiry that resulted in a thirty-page report.[35] They did not find any credible evidence to support the theory that Monroe was murdered.[35][36][34]
In 1983, coroner Thomas Noguchi published his memoirs, in which he discussed Monroe's case and the allegations of discrepancies in the autopsy and the coroner's verdict of suicide.[37] These included the claims that Monroe could not have ingested the pills because her stomach was empty; that Nembutal capsules should have left yellow residue; that she may have been administered an enema; and that the autopsy noted no needle marks despite the fact that she routinely received injections from her doctors.[37]
Noguchi explained that hemorrhaging of the stomach lining indicated that the medication had been administered orally, and that because Monroe had been an addict for several years, the pills would have been absorbed more rapidly than in the case of non-addicts.[37] He also denied that Nembutal leaves dye residue.[37] He noted that only very recent needle marks are visible on a body, and that the only bruise he noted on Monroe's body, on her lower back, was superficial and its placement indicated that it was accidental, and not linked to foul play.[37] He concluded that based on his observations, the most probable conclusion is that Monroe committed suicide.[37]
Now, almost all of us use Wikipedia, and on the whole it's an absolutely wonderful resource. You can find some quick info about almost anything. Articles are usually edited to be more accurate than inaccurate, even the if the top experts in a field have not been invited as authors.
But at times Wikipedia badly disappoints us. On quite rare occasion (at least we like to think rare), an entry is grossly inaccurate, and egregiously misleading. (A case in point, within the wheelhouse of MindOverMystery, involves the complex Franklin Savings and Loan scandal out of Nebraska from the late 1980's.  Wikipedia's entry on that case is an embarrassment of inaccuracy.)
More often, Wikipedia disappoints by thin research and lack of critical analysis. The writers mean well, the entry has some value, but if you took it as your only source on an issue or event you would never develop a rich understanding.
To show how subtle Narrative hangs by a thread, by a word, and by interpretation, let's dissect select passages from this Wikipedia summary.
Beginning in the fifth paragraph, where the entry backs up to Marilyn's recent history: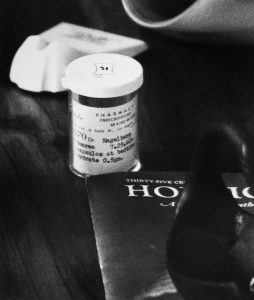 "By the early 1960s, Monroe had for several years been dependent on amphetamines, barbiturates and alcohol, and experienced various mental health problems, including depression, anxiety, low self-esteem, and chronic insomnia.[2] She had acquired a reputation for being difficult to work with, as she frequently delayed productions by being late to film sets and often had trouble remembering her lines."
In one sense, yes. All true enough.
But misleading, without meaning to be. Professionals in mental health may debate her mental make-up forever, and it had it's desperate components, a few overdoses that certainly looked like suicide attempts. But she also drew on enormous strength, resilience, and kindness. More often than not, people who got to know her well, personally, were impressed not just by her clever intelligence but by her kindness, attentiveness to the lives and needs of others, and loyalty to persons she judged worthy of loyalty. In more than one professional relationship, she provided the strength to another actor. Her personality was very distinct from the self-absorbed narcissist we've come to think of as the clichéd, selfish star.
And stories of Hollywood excess usually create a scale in which Marilyn's abuse or dependence on various crutches were, sadly, only about average. On "The Misfits she was a mess, for reasons (mostly not her fault) too complex to outline here. But she only came in third or fourth in the mess-competition: her director (Huston) was drunk and gambling every night, and endangering the film's budget; a couple of other co-stars were three sheets to the wind most of the time. But the legendary narrative focuses on her problems, not theirs.
As far as chronic lateness, yes. She drove her co-star on "The Misfits," Clark Gable, absolutely bonkers by leaving the cast hanging as she obsessed about her appearance, and her readiness to perform. Yet he became a believer in her greatness-"When she's there, she's really there" he said of her locked-in performances–and he developed a tremendous avuncular fondness and respect for her as a young woman as well. In similar fashion, on the set of "Something's Got to Give" the superstar Dean Martin was left cooling his heels for infuriating stretches while Marilyn tried to get it together. Yet he respected her enormously, and when the studio tried to jettison her for a replacement actress he said, No Dice. You either keep Marilyn on this picture, or you'll be replacing me as well. She often engendered this level of loyalty and caring in people who would seem to have every reason to strangle her.
All of this to illustrate the point that the Wikipedia lines above were true, sort of, but very far from the whole truth.
From the next paragraph in Wikipedia:
"Instead of working, Monroe spent a large part of 1961 preoccupied with health problems and did not work on any new film projects."
Well, the real story, in context, would keep you up all night reading detail, although it makes an interesting study. Two of the broad strokes are:
 She felt exploited by Hollywood in several ways (she was) and she and her advisors and attorneys worked hard in the late 50's and early 60's to turn that around.
 Many delays on starting new films were negotiations, as the studio predictably wanted stars to sign on at modest compensation.   Superstars like Marilyn wanted more money and more importantly (at least for her), dignified roles and more artistic control–she was always reading scripts, looking for good ones.
That's much closer to the story of the final years of her career than some image or her wallowing around in health problems, unable or unwilling to work.
From a following paragraph, discussing her last fateful months alive: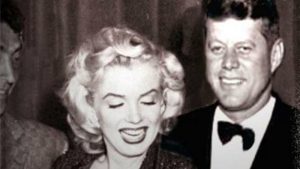 "On May 19, she took a break from filming to sing "Happy Birthday" on stage at President John F. Kennedy's birthday celebration at Madison Square Garden in New York.[11] Monroe and Kennedy had mutual friends and although they sometimes had casual sexual encounters, there is no evidence that their relationship was serious.[12]"
Wow, talk about a misleading declaration!     It's so off-target as to be essentially worthless.
That "Happy Birthday" rendered to the President made for one of the most iconic, and gossiped-about, birthday parties in world history. And therein lies the rub, the high-gossip-profile of his relationship with Marilyn, and his decision to cut her off quickly, like a macheté chopping a branch, occurred right after his very special Happy Birthday.
JFK had a endless procession of casual lovers, but it wasn't that meaningless to all of them. Marilyn had captivated both Kennedy brothers, and had been Jack's lover on and off for years. At one point she actually thought that his marriage to Jackie would be ennulled, and she'd be the new Mrs. Kennedy, perhaps with encouragement from the young Senator.
As he ascended to become President, and had to consider image all the more, he tried to make the casual and secret nature of their liaison clear to her. But eventually Marilyn became enraged, absolutely livid!  Here was one more person who had simply used her and would discard her when convenient, a very painful pattern in her life.
So yes, the relationship was "casual," not "serious," but there was nothing casual in Marilyn's growing anger, and there was everything serious about the panic that set in to the Kennedy camp. Among other things, the brothers had discussed sensitive matters of state in her presence, and apparently J. Edgar Hoover brought them transcripts and dossiers and read them the riot act!  A furious Marilyn, a loose canon they'd stuffed with gunpowder, was threatening to go public, and the Kennedys saw their political lives flash before their eyes, possibly disintegrating into fireworks.
So the sentence in Wikipedia about casual trysts, yes you could call it accurate, but it tells only five per cent of the story.
Speaking of missing critical dimensions of truth, sometimes a single sentence carries hidden bombshells…from an introductory paragraph:
"(Eunice) Murray stayed overnight to keep Monroe company"
Factually accurate, that statement about her last night alive. But what a backstory is neglected!
Live-in housekeeper Eunice Murray was close to Dr. Ralph Greenson, in fact it's now recognized he placed her in Marilyn's home as basically a live-in informant, a snoop.  We don't have time or space to fully discuss Greenson as a psychiatrist here, but it's now accepted he crossed numerous boundaries with Monroe, committing some of the great sins of his profession. There's evidence Monroe was increasingly fed up with everyone using her, in some way, in their own image. She was getting rid of Murray immediately and, some Marilyn-historians say, preparing for a break in the coming weeks with the overly controlling Greenson.
Marilyn had told Eunice that very day to pack up and get out, and thus "Murray stay(ing) overnight" was Murray hanging on a last day, at Greenson's request, on what was a fiery day in Marilyn's emotional life.
But the Eunice Murray story goes deeper, and gets much worse. Based on files released over the years under FOIA requests, and other documents and reminiscences of numerous individuals, Ralph Greenson was deeply committed to the far, essentially Communist, left. So was Eunice Murray's family, and apparently "red" politics was the basis of their connection. Although the wretched excesses of the McCarthy era were now fading, it wasn't unreasonable for the Feds to be concerned about some relationships.
Not to put too fine a point on it, if Kennedy-Monroe pillow talk contained sensitive information, got back to the ear of a certain psychiatrist, and then passed on to post-Stalinist Russia, that's a National Security issue. To be clear, there's no evidence that any specific secret ever travelled the wrong channel and ended up in Moscow, but the concern was active.
All this going on in the background, and our Wikipedia narrative merely intimates that a kindly old housekeeper stayed over with a troubled starlet…
Finally, from a later paragraph discussing the night she died:
"At approximately 3:00 a.m., the housekeeper woke up "sensing that something was wrong", and saw light from under Monroe's bedroom door, but was not able to get a response and found the door locked.[23][28] She telephoned Greenson, on whose advice she looked in through a window and saw Monroe lying facedown on her bed, covered by a sheet and clutching a telephone receiver.[23][28″
The Wikipedia discussion of the death, and how it was handled, should have framed those initial reports with language like: "According to the initial story that police received, now largely discredited…."
We assert this because discrepancies in testimony, in timeline, missing or altered evidence, and common sense inferences from all the circumstances make clear: someone was staging the scene and covering their rear ends before they officially summoned the authorities.
Does that mean a cover-up of dramatic scandal, such as RFK and his henchmen arranging the execution of a troublesome Marilyn? No, that's absolutely not proven. It may have been something as simple as two doctors horribly overdosing the star, not aware of the drugs each had given her, and scrambling to cover their butts.  What does seem clear is that those at the scene certainly weren't candid with authorities.
Admitting we may never know exactly what happened, which acts by whom in what sequence, is different from taking the official cover story–pushed by Ralph Greenson and others that night–seriously. It's simply not credible, for the myriad reasons referred to.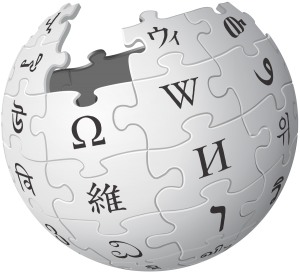 Then, why include the long song and dance of the story that authorities were fed, without the immediate disclaimer? Anyone who takes a sober look at the case knows there was clean-up, staging, lies for self-preservation.
The Wikipedia narrative doesn't get all that across, and the casual reader can be badly misled.
We could discuss a dozen other examples of a misleading narrative, but that would go on all day, we think you get the idea….
The purpose of all the discussion above is not to unduly criticize Wikipedia, one of the fine resources of the cyber-age, but to ask broader questions.   Where does our internal narrative on a given issue come from? Usually from one or two articles we've briefly scanned. So often, as those articles scratch the surface, they leave us with misconceptions.
THE LEGEND AND THE MEMORIES
Try all the adjectives on for size: Gorgeous, voluptuous, alluring, mean, beguiling, captivating, charming, gracious, seductive, enchanting, enticing, bewitching, mischievous, magnetic, familiar, cheerful, girlish, submissive, wincing, naive, innocent, vulnerable, soft, wistful, melancholy, desperate, pensive, plaintiff, distant, sad, silly….
Those are just some of the adjectives used to describe this complex woman, the woman that so many loved, and many worshiped, but very few really knew.
The phenomenon of a woman that was Marilyn Monroe…
These sections of our file on Marilyn Monroe are designed to grow, to add quotes, reminiscences, observations from our readers. We start with a few quotes:
And quotes from Marilyn, and about her, can be more than interesting…
"I am good, but not an angel. I do sin, but I am not the devil. I am just a small girl in a big world trying to find someone to love." ~ Marilyn Monroe

"Dogs never bite me, just humans." ~ Marilyn Monroe

"Hollywood is a place where they'll pay you a thousand dollars for a kiss and fifty cents for your soul." ~ Marilyn Monroe

"Boys think girls are like books. If the cover doesn't catch their eye they won't bother to read what's inside." ~ Marilyn Monroe

"A strong man doesn't have to be dominant toward a woman. He doesn't match his strength against a woman weak with love for him. He matches it against the world." ~ Marilyn Monroe

"If I'm going to be a symbol of something I'd rather have it sex then some other things we've got symbols of." ~ Marilyn Monroe
---
"She is a phenomenon of nature like Niagara Falls or the Grand Canyon. You can't talk to it. It can't talk to you. All you can do is standby and be awed by it." ~  Nunnally Johnson, Marilyn, The Last Take 1990

"She's somehow different to each man living, somehow the thing he seems to require most." ~  Clark Gable, Playboy, 1986

"I've never met anyone as utterly mean as Marilyn Monroe. Nor as utterly fabulous on the screen." ~ Billy Wilder, LA Times, 1968

"I remember her on the screen huge as a colossus doll. Mincing and whispering and simply hoping her way into total vulnerability." ~  Gloria Steinem, Ms. Magazine, August 1972

"She was good at playing abstract confusion in the same way that a midget is good at being short." ~ Clive James, Visions Before Midnight, 1977

"Munroe, the consummate sexual doll, is empowered to act but afraid to act, perhaps because no amount of acting, however inspired, can convince the actor herself that her ideal female life is not a dreadful form of dying." ~  Andrea Dworkin, 1978

"A vacuum with nipples." ~ Otto Preminger, 1989
---
What's your favorite quote from, or about Marilyn Monroe?